Regional broadband specialist Dakota Carrier Network is set to build a 14,000 square foot colocation data center in Fargo.
The new facility will complement the existing data center at 3901 Great Plains Drive, and will cost approximately $5 million. It is expected to commence operations in 2018.
The announcement was made at the State of Technology conference, hosted by the Fargo Chamber of Commerce and Senator John Hoeven.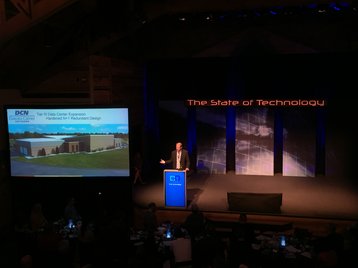 Local initiative
DCN is a partnership between 15 independent telecommunications companies operating across North Dakota, established to run the largest carrier-grade fiber network in the state.
Despite its focus on broadband, DCN has made continuous investments into its data center capabilities, constructing four facilities in the past 11 years - including a 42,000 square foot data center in Bismarck.
Its latest facility will be located adjacent to the existing data center, and will increase DCN's capacity in Fargo by a factor of six.
The company said that the facility will conform to Tier III guidelines - although it's unclear whether this will be certified. Considering its location, the 'bunker' design will also be made resistant to devastating category F4 tornadoes, which can reach speeds of up to 200 mph.
Border States Electric has already signed on to become the new data center's first anchor tenant.
"The complexity of designing and maintaining a redundant data center built to withstand all of the natural and cyber threats that exist in our world today is not cost effective, even for large companies like ours," said Ryan Stall, senior vice president of Strategy Enablement at BSE.
"When we weighed the pros and cons, it was clear that colocation offered the most secure, efficient and economical solution to meet our data center needs."