German automotive firm Daimler could bring its hydrogen fuel cells to the data center, in partnership with Hewlett Packard Enterprise (HPE), LiteOn's Power Innovations (PI) and the National Renewable Energy Laboratory (NREL). The project is also supported by Mercedes-Benz Research and Development North America (MBRDNA) and Daimler Innovations Lab1886.
Starting this year, the partners aim to develop prototype continuous power solutions and stationary power systems for data center backup.
First cars, then data centers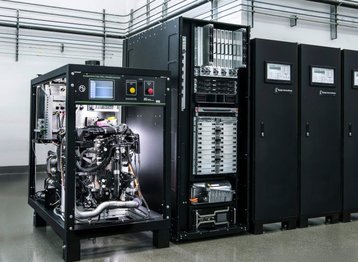 "The maturity of automotive fuel cell systems is unquestioned today. They are ready for everyday use and constitute a viable option for the transportation sector," Prof. Dr. Christian Mohrdieck, fuel cell director at Daimler AG and CEO of Daimler subsidiary NuCellSys, said.
"However, the opportunities for hydrogen beyond the mobility sector - energy, industrial and residential sectors - are versatile and require the development of new strategies. Economies of scale and therefore modularization are important challenges."
Hydrogen fuel cells combine hydrogen and oxygen to produce electricity, with water created as a byproduct. The fuel cells are therefore perfectly green when in use, but can lead to the release of greenhouse gases during manufacturing.
The amount of carbon emissions from hydrogen fuel production depends on where and how it is harvested - today, it predominantly comes from natural gas.
The natural gas is converted into hydrogen and carbon dioxide, but, as The Union of Concerned Scientists noted in a 2014 report, this still leads to less emissions than in a traditional car engine.
Hydrogen can also be extracted from water using renewable energy sources, which - if the process becomes more common - would drastically reduce the carbon footprint of the cells themselves.
Daimler's announcement was timed to coincide with the news that the Mercedes-Benz GLC F-Cell has entered pre-production. A car sporting Daimler's fuel cell tech, as well as lithium-ion batteries, the GLC F-Cell will be one of the few cars of this type to hit the road.
The technology, while reasonably mature, still faces a tough uphill climb to wider adoption in the automotive industry. Those advocating a move away from fossil fuels are split on whether to use fuel cells or lithium-ion - both requiring significant investment in refueling infrastructure if they expect to reach mass-market appeal.
Elon Musk, CEO of electric car company Tesla, has called fuel cells "mind-bogglingly stupid," "incredibly dumb" and referred to them as "fool cells," claiming that they are less energy efficient than batteries. But proponents of the technology have countered that hydrogen fuel cars can be refueled quickly and have a longer range than electric ones.
Tesla is also pitching its batteries for applications in the data center, last week revealing one customer who did away with their traditional UPS and generators. However, even if they turn to lithium-ion batteries for UPS systems, most data center operators will still rely on diesel gensets as a backup power supply.
Here, fuel cells could make a real difference - Apple, which normally powers its data centers with renewable energy (including power purchasing agreements) previously revealed that it used 261,580 gallons of diesel in a year to run its facilities when the grid failed.