CyrusOne has launched a new AI-specific built-to-suit data center design, which uses immersion cooling, and other techniques, to achieve high power densities
The company this week announced its new Intelliscale offering, an artificial intelligence (AI) workload-specific data center solution, developed specifically to address the needs of AI applications and services.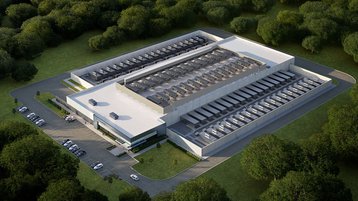 Intelliscale facilities will be designed to handle specialized high-performance hardware, including GPUs and TPUs, optimized for parallel processing and matrix operations for modeling, accelerated training, and inference.
CyrusOne said the Intelliscale data centers are built upon an ultra-high-density foundation and operate with minimal land usage: the company claims Intelliscale data centers can occupy just 25 percent of the space of 'typical' data centers – depending on the application and needs – and can be single or multi-story.
Utilizing modular manufacturing and the company's zero-water design, CyrusOne said Intelliscale enables customers to utilize liquid-to-chip cooling technology, rear door heat exchanger cooling systems, and immersion cooling to achieve efficient cooling up to 300kW per rack. In some instances, existing facilities can be retrofitted to address dense AI deployments.
"The exponential increase in AI workloads will inevitably further impact the unprecedented demand that our industry is facing," said John Hatem, chief operating officer at CyrusOne.
"In this environment, planning for long-term AI growth is imperative, and ensuring cloud service providers have the infrastructure to support it is central to making this a reality. Deploying Intelliscale today will allow organizations to secure their AI future. With this global solution, our objective is to establish an AI environment for our high-density customers that is efficient and flexible, empowering customers to enter the market more swiftly and cost-effectively."
CyrusOne CEO Eric Schwartz said: "We are constantly challenged to deliver next-generation solutions for what our customers desire, and Intelliscale is just one example of how we are responding. We're thrilled to be offering the data center industry's first-of-its-kind AI solution, a game changer for the industry."
More in Construction & Site Selection