American retail colo giant CyrusOne has received approval from the South County Dublin Council to build a €21m ($24.23m) data center in the Grange Castle Business Park, marking the first step of what data center operators often find is a perilous journey from concept to fully operational facility.
The site is home to a number of other major data center players, including Interxion, Microsoft and Google. Edge data center specialist EdgeConneX is also planning to build a facility there, and Alibaba visited the site last year with a view to potentially investing in the Dublin area.
That lucky charm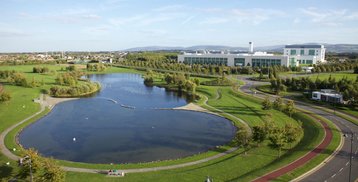 The company plans to reach full capacity within five years of breaking ground, with major equipment investments planned in year one, three and five. Although it will only require 70 people to operate the facility upon its completion, several hundred are to be employed during the construction phase.
If successful, the project will be the company's first data center in Ireland, and its third outside of the United States, along with Singapore and London, bringing it up to 36 facilities in total. The company registered a 20 percent year-on-year growth in Q2 2017.
Ireland is considered a landing station between the US and Europe for data center operators wishing to have a foothold close to the UK, but not wanting to bear the burden of corporate tax imposed by British laws. Plus, most especially in the context of Brexit, companies are attracted to the certainty offered by the EU member state.
In so far as connectivity is concerned, plans for a submarine cable system connecting Ireland and France, expected to come to fruition in 2019, will add to the country's already dense fiber and dark fiber networks. 
Another factor playing in Ireland's favor is its stance on renewables: the country has invested massively in wind energy in recent years, aiming to reach 40 percent of all electricity produced using sustainable sources by 2020 – far ahead of EU regulations, at 16 percent.