UK based Custodian Data Centres is to convert unused space from a nearby television studio into what it promises will be a state of the art data floor.
Custodian shares the same Kent location as Maidstone Studios, home of celebrated TV shows such as The Muppets and Fraggle Rock. The TV studio was built in the early 1980s and was itself state of the art in its time, costing £17m (the equivalent of £63 mi today) to construct. These days, the stars in the green room have been replaced by uninterruptible power supplies (UPS), the cameras have given way to cooling machines and the rigging has been updated to structured fibre optic cabling.
The floor on which Kermit and Miss Piggy exchanged bon mots is still a home to intelligent information, with a series of data floors being constructed out of the former open spaces contained within the twin skinned block that housed the celebrated creative hot bed.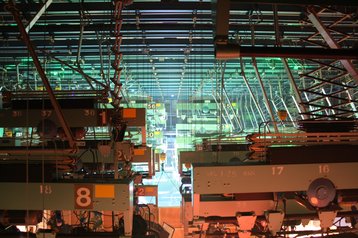 … and action!
The individual structure of a TV studio complex – which comprises of a number of individual independent units – lends itself to the construction of a data center facility. Data floors are being built in each former studio housed within the outer main building. The data floors will comprise a series of individual self-contained suites on each floor, which can be easily converted to provide customisable access security controls.
The high ceilinged studios allow for the building of three secure floors using steel frames, with each floor individually secured and accessed. The physical set-up of the new floors will provide clients with 'unprecedented building security' within a ring fenced site (according to Custodian).
The building-within-a-building nature of the twin skinned infrastructure will attract security conscious clients to the site, explained CEO Rowland Kinch. "We are taking the inherited advantages of our site and combining it with the most advanced technology and industry expertise to deliver what we believe to be one of the leading privately owned data centre facilities in the UK," said Kinch.
With Maidstone being a 0.4millisecond commute for data travelling to and from London's major Dockland's data centers, low latency is a major selling point for blue chip organisations, according to Kinch.
Data center operator Custodian offers colocation and network services and claims a 100% power uptime record. It is ISO 27001 accredited and offers 20kW+ rack options.