American power generation specialist Cummins has launched a diesel genset that manages to deliver 2750 kVA of power using a compact 60-liter engine.
The company says the 50Hz version of its QSK60-G22 engine is up to 50 percent smaller in displacement than competing engines with a similar power rating, making it much more efficient.
"This latest addition to our product portfolio builds on Cummins Power Generation's position as a market leader in this industry. When you need a generator set that produces more power and consumes less fuel in a smaller footprint, this product will not disappoint," said Cummins Power Generation Product Management leader Cody Albertus.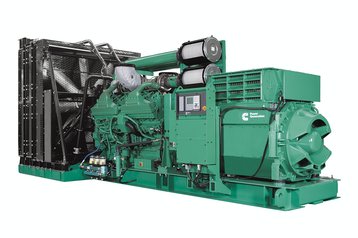 World domination
Cummins is a Fortune 500 corporation which has been manufacturing diesel and natural gas-powered engines since 1919. Its products can be found in everything from ships and military vehicles to Dodge Ram pickups.
The company calls its QSK60-G22 engine one of a kind, able to deliver more power in a smaller footprint than its predecessors.
According to Cummins, the size of QSK60-G22 makes it perfect for mission-critical applications in facilities where additional space is at a premium, like data centers, hospitals and large retail and recreational sites.
The engine was previously only available in a 60 HZ version, which limited its geographic reach. With the addition of a new 50Hz model, QSK60-G22 can now be deployed worldwide.
The genset itself - model number C2750D5B – includes the engine, alternator, transfer switch and control system all designed, built and assembled by Cummins.