Supercomputer specialist Cray is set to acquire Seagate's ClusterStor storage product family, designed for HPC environments.
As part of the deal, Cray will take on more than 100 of Seagate's employees, as well as the company's support contracts and sales operation. The two will also collaborate on building Seagate's hard drive technology into future ClusterStor products.
"This partnership will be an exciting next step for Cray as we broaden our portfolio and expand our ability to create a leadership position in high performance storage products," said Peter Ungaro, president and CEO of Cray.
"With the push to exascale computing and the explosive growth in artificial intelligence, deep learning and analytics, the ability to integrate compute and storage into supercomputing systems is more critical than ever."
The financial terms of the deal were not disclosed.
From customer to owner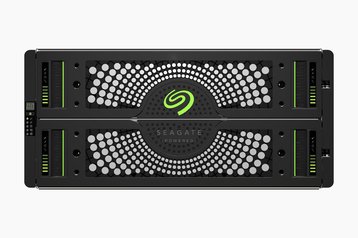 The ClusterStor high performance storage was originally developed at Xyratex, a British company that was spun out of IBM through a management buyout in 1994. It was acquired by Seagate in the beginning of 2014, for $374 million.
Cray is one of the oldest and most respected names in supercomputer design, responsible for four out of ten most powerful machines in use today. It has been a long-term customer of Seagate, and has purchased a large number of ClusterStor systems in the past. Now, it can finally bring this technology in-house.
"Adding Seagate's ClusterStor product line to our DataWarp and Sonexion storage products will enable us to provide a more complete solution to customers," Ungaro said.
"Current ClusterStor customers and partners can be assured that we will continue to advance and support the ClusterStor products. In addition, I look forward to welcoming our new Cray employees along with the ClusterStor partners and reseller channel – strengthening our strategic positioning for growth into the future."
The transaction is expected to close in the third quarter of 2017. According to Cray, the net impact of the acquisition will break even for 2018.