US supercomputer manufacturer Cray has added AMD's Epyc central processing units (CPUs) to its Cray CS500 product line. 
The addition of the Epyc 7000 processors to its product line marks the first time in five years that Cray has offered AMD chips in its systems. Previously, the CS500 high performance computing (HPC) cluster only offered Intel Xeon processors, Intel Xeon Phi processors, Intel Stratix FPGAs, or Intel Xeons with Nvidia Tesla processors.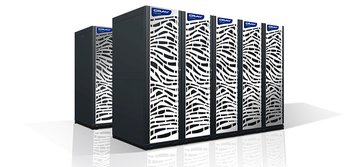 Intel outside
The Epyc-system comes in a 2U chassis with four dual-socket nodes. Each node supports two PCIe Gen3 x 16 slots with 200Gb network capability and HDD/SSD options.
Cray will also offer a one node CS500 for large memory configurations, visualization, and service node functionality.
"Our decision to offer AMD Epyc processors in our CS500 product line is emblematic of Cray's commitment to the community to deliver a comprehensive line of high-density systems with an optimized programing environment to deliver the required performance and scalability," Fred Kohout, SVP of products and CMO at Cray, said. 
Scott Aylor, corporate VP and GM, data center and embedded solutions at AMD, added: "Cray's leadership in supercomputing is well known and AMD is thrilled to be working with them on the CS500 cluster system.
"Cray is the first system vendor to offer an optimized programming environment for AMD Epyc processors, which is a distinct advantage. Combining AMD Epyc processors with Cray's supercomputing expertise opens new opportunities for both companies to grow."
Cray used to be much closer to AMD - the Red Storm supercomputer which saved it from the brink of bankruptcy featured over 20,000 AMD Opteron CPUs. The system was commercialized as the XT3 in 2004, and was soon followed by the XT4 and XT5, before being replaced with the XE system in the late 2000s.
2013 saw the last Opteron Cray systems in the XE6 and XK7, but since then Cray has only offered Intel CPUs in its products.
 "We became distracted and we were doing many different things, server was not the first priority," AMD CEO Dr Lisa Su told DCD last year.
"I view this as a long term investment. [Intel] are very capable, but I think we have shown that we can be very, very capable as well."
The systems will be generally available this summer.