US Midwest IT provider Cosentry has built a data center for Omaha-based Nebraska Medicine. The new high-density suite, within the company's existing Omaha data center, has saved more than 50 percent of the cost of building a new facility, and uses an innovative in-row cooling solution that will draw 30 percent less power than a traditional environment. 
Nebraska Medicine is the clinical integration of The Nebraska Medical Center, Bellevue Medical Center and UNMC Physicians, serving more than 1,000 physicians and 678 licensed hospital beds, as well as approximately 40 specialty and primary care clinics.
The organization budgeted for a $13M data center, but Cosentry offered to design and build a more efficient facility for less than half the cost.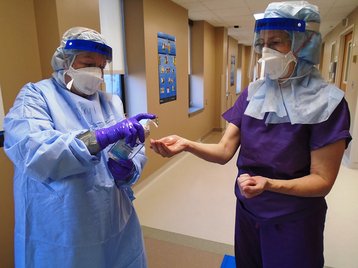 Using existing space cleverly
Using existing space that was already under lease, Cosentry proposed a private suite solution consisting of 140 high-density cabinets along with high-efficiency UPS equipment.
The close-coupled cooling architecture, not typically used in colocation or large data center applications, provides the additional efficiency says Cosentry. 
Cooling units are placed in rows with the server cabinets, reducing, the energy needed for air circulation, and the system runs warmer so less cooling is required. 
Cosentry says it uses cooling temperatures of 22ºC (72ºF) as opposed to typical cooling temperatures of 13ºC (55ºF) which is sometimes used. 
The system also avoids the need to inject humidity into the airstream to avoid electro-static discharge
Nebraska Medicine is saving more money by using Cosentry's network management and security services, Cosentry says.