Construction has begun at the Unified National Networks (UNN) data center located at the UNN Tungku Submarine Landing Station in Brunei.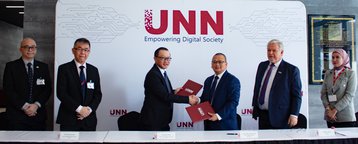 A groundbreaking ceremony was held for the facility which will span 51,000 sq ft (4,740 sqm) when completed and house 200 racks supplied by Vertiv.
Construction is expected to be complete in a matter of months by using a prefabricated design, while the facility should be open by early 2024.
The data center modules and equipment are currently undergoing testing before they are shipped to Brunei. UNN is also working with the Berakas Power Company to install a second independent power feed at the site.
UNN CEO Dr. Steffen Oehler said that the data center is arriving at the perfect time, "as our fiberization project is in its final phase and 5G services were just launched in June."
The UNN is a part of the consortium co-led by Singtel and China Telecom Global Limited for the Asia Link Cable System (ALC). The subsea cable will connect Hong Kong, Singapore, the Philippines, Brunei, Hainan, and China and will land at the UNN cable landing station where it will connect to the upcoming data center.
The data center is currently the only one listed in Brunei on Data Center Map and Data Center Journal, potentially making it the nation's first of note.
The ALC is currently projected to go live by Q3 of 2025.