New research predicts consolidation will cause huge shifts in European data center markets.
Analyst outfit 451 Research claims that the appetite for colocation could create great divisions between industry leaders and smaller regional providers in Europe, with large players growing their market share, leaving the smaller players to focus on diversification to survive.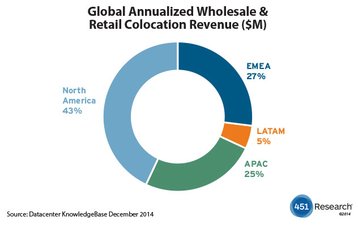 451 Research analysts believe data regulation requirements, increasing demand for high-quality datacenter space, latency concerns, and a need to differentiate – with footprint, connectivity or services – will drive acquisition activity in this space in the near future.
Global figures
According to 451 Research, this activity is likely to create new divisions between regional, international and pan-European wholesale and colocation providers, leading smaller players to focus more on services and areas of core competency to compete.
Consolidation is not restricted to multi-tenant data center (MTDC) operators. 451 Research expects M&A activity to also focus on service portfolios, skill sets, and network and cloud infrastructure as companies move into new countries and offer higher-value services.
Earlier this year, pan-European provider TelecityGroup announced its intention to purchase Interxion. The £1.44bn deal would have been one of the largest ever undertaken in the European MTDC market. However, last week Equinix gatecrashed the detal, starting talks with TelecityGroup about a possible takeover. If an acquisition is announced, it would be worth even more than the Telecity/Interxion deal.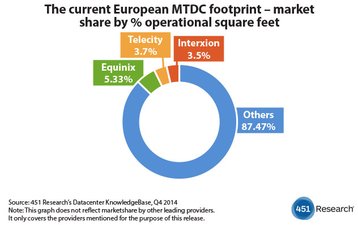 451 Research estimates there are 27m square feet of operational datacenter space in Europe. Of that, Equinix claims 5.33 percent, TelecityGroup 3.7 percent and Interxion 3.5 percent. If Equinix were to acquire TelecityGroup, the new company would have a 9 percent market share across Europe, while a combined Telecity/Interxion would have 7 percent market share by operational square foot.
NTT recently announced its intention to purchase German wholesale provider e-shelter in a deal that would provide it with a strategic datacenter footprint in Frankfurt, Vienna, Zurich and Berlin. These deals alone will change markets not only in London and Germany but also other cities across Europe.
The current footprint of MTDC
451 analysts predict one outcome of consolidation will be a new emphasis on emerging locations including Stockholm, Vienna, Madrid and Milan. Research indicates better economies of scale for those providers that do merge or acquire, the benefits of which could be passed down in the form of price reductions over time.
Penny Jones, Senior Analyst – European Services, 451 Research said: "Our analysis suggests that MTDC providers in Europe will become more cautious bringing supply to market – in some cases, these providers may choose to expand in partner colocation facilities where cloud or other nodes exist," she said. "We do not, however, expect to see huge revisions in build plans until 2016. Overall, the industry needs to be careful that such M&A activity – or expectations around it – does not lead to datacenter stocks becoming overvalued. A cautious approach will need to be taken to ensure key company stock is not put at risk."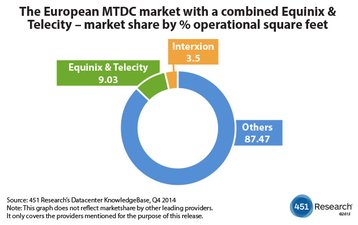 The 451 Research suggests that this is only the start of M&A activity in the European market.
How the Equinix Telecity deal changes the market
451 Research projects the global colocation market's annualized revenue to reach US$36bn by 2017, with an additional 7.4m square feet coming online by the close of 2017. Today, there are 3,796 datacenters operated by 1,094 companies in the 451 Datacenter KnowledgeBase, which tracks more than 100 data points and metrics for datacenter operators around the world. Of these, just over 42% (about 1,616 datacenters) are in Europe.
A majority of Europe's markets are still served by regional providers, which offer local support and skills for each country or city but cannot compete for global reach and scale with larger providers entering their territory.