Congress is questioning the US Defense Department's decision to award its Joint Enterprise Defense Infrastructure (JEDI) contract to a single cloud provider.
Over ten years, the deal could be worth as much as $10 billion - a huge contract that could otherwise have been split between multiple vendors. With Amazon Web Services thought to be the most likely winner of such an arrangement, its competitors are also thought to be pushing for a change to JEDI.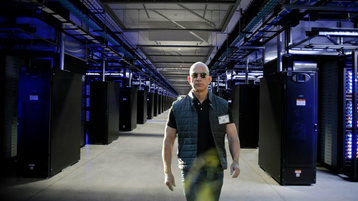 There can only be one
"The Department of Defense seeks to accelerate and streamline the acquisition of cloud computing services at multiple security levels across the Department in an effort to provide the benefits of cloud computing while reducing management and administrative burdens," a legislative report on the proposed $1.3 trillion funding package notes.
The DOD "created the Cloud Executive Steering Group to oversee this effort, referred to as the Joint Enterprise Defense Infrastructure (JEDI). This effort would be a tailored acquisition for commercial cloud services that could be a single award indefinite delivery/indefinite quantity contract for a period of up to ten years."
The report continues: "There are concerns about the proposed duration of a single contract, questions about the best value for the taxpayer, and how to ensure the highest security is maintained."
With this in mind, the report orders the Secretary of Defense Jim Mattis to provide a report to the congressional defense committees within 60 days of the enactment of this Act, "detailing a framework for all Department entities, to include combat support agencies, to acquire cloud computing services including standards, best practices, contract types, and exit strategies to ensure government flexibility as requirements evolve.
"The report should also include justification, to include cost considerations, for executing a single award contract rather than creating an infrastructure capable of storing and sharing data across multiple cloud computing service providers concurrently, to include data migration and middleware costs."
The military must also, within 45 days of the enactment of the Act, provide specific information regarding the JEDI procurement. In particular, Congress wants to know "the amounts requested in the fiscal year 2018 and 2019 budget for this and all other cloud computing services acquisitions by appropriation" along with "fiscal year 2019 future years defense program levels for cloud computing services; identification and justification for acquisitions" and "where other transactional authorities will be utilized."
The move to choose a single vendor for the contract also saw criticism from Microsoft, IBM and industry groups representing companies such as Oracle. All appear to be concerned the huge contract will go to Amazon Web Services, the market leader, and current provider of cloud services to the Central Intelligence Agency.
AWS' competitors argue that a single-source approach will stifle innovation and increase security risks, according to Roger Waldron, the president of the Coalition for Government Procurement, which represents Oracle, Microsoft, IBM, Dell and others, Bloomberg reports. "If you are dependent on one cloud provider for ten years, if something goes wrong, what are going to do?" he said.
Sam Gordy, GM of IBM US Federal, said in a statement: "There's a reason why the government engages with multiple sources for acquiring fighter jets or launching satellites: national security," Sam Gordy, general manager of IBM U.S. Federal said in a statement. "It doesn't make sense for DOD to opt for a less secure approach for purchasing cloud computing than it would for any other weapon system."
Protests by Oracle are thought to be behind AWS reseller REAN seeing a $950m cloud contract be cut to just $665m.
As for JEDI - should nothing change, the Pentagon intends to award the 10-year contract by September 30.