Some details of modular data center builder BladeRoom's complaint against Facebook have emerged, in a heavily-redacted copy of the court document.
BladeRoom Group (BRG) initially approached Facebook, offering its expertise to help the social media giant build data centers, according to the complaint, available in redacted form as a PDF. The complaint alleges that, after this approach, BRG's ideas were exploited in Facebook's Rapid Deployment Data Center (RDDC), which Facebook commissioned Emerson Network Power to use in building the Lulea datacenter in Sweden.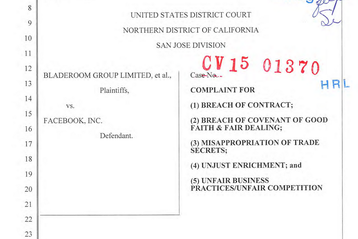 Redacted details
BRG's complaint contains a lot of redacted details, but describes how it developed modular techniques for rapid construction of buildings with air-handling needs such as hospitals, kitchens and clean rooms. In 2008, it realised that the multi-billion dollar data center industry was "an area where pre-fabrication and modular construction techniques could provide significant benefits". 
After developing its data center construction business, in 2011 BRG says it spotted Facebook as a possible customer and contacted it, as it was "confident in its growing global reputation". 
What happens at this point is a four-page blank, at the end of which the complaint says "BRG never imagined that Facebook would end up stealing the BRG methodology, and partneringt with Emerson to construct its data centers using BRG's trade secrets and confidential information". BRG says Facebook used its trad secrets in the Lulea facility, and then shared them with the industry through the Open Compute Project.
The suit then details various press releases from Facebook, and links to a YouTube video of Facebook's Marco Magarelli presenting RDDC at last years Open Compute Project summit (Magarelli's section starts at 21:49), as well as a blog post from Magarelli. 
The complaint makes five specific allegations: breach of contract (details redacted but presumably a non-disclosure agreement), breach of "fair dealing", misappropriation of trade secrets, unjust enrichment and unfair business practices.
It demands punitive damages, as well as specific payment of any enrichment that Facebook has gained through use of BRG's trade secrets.
The case will be hotly argued and very difficult, as BRG is alleging breach of "trade secrets" and not patents. Trade secrets are protected by law, but are notoriously hard to define.