Compass Datacenters has acquired a former Sears headquarters in Hoffman Estates, Illinois.
The site in question covers 197 acres at 3333 Beverly Road, with the purchase closed on September 12.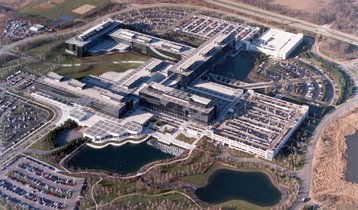 Compass was first revealed to be interested in the purchase in July 2023. The company will likely demolish the headquarters in order to build several data centers on the site.
Hoffman Estates village president Bill McLeod, said of the plans: "The reality is, it's 2.3 million sq ft of office space, and what are you going to fill it with? The odds of us getting another business in there is pretty remote, and data centers are unobtrusive, have very little traffic, and provide good-paying jobs."
Sears first moved into the headquarters in 1992, with around 5,000 employees based in the office. Sears ultimately went bankrupt in 2018 and sold its assets to Transformco, which later put up the Hoffman Estates site for sale in 2021.
McLeod acknowledges that the data centers will not bring as many jobs to the area as the Sears HQ did previously, but notes that the financial boost will be significant.
"If they build four or five data centers, that will be $5 billion of investment," he said. "There will be a lot of money coming into our schools."
ComEd, the largest electric utility in Illinois will need to provide electricity approvals for the data center. ComEd's senior manager of economic development said that the company was currently unable to commit to a specific service date for the Compass site.
Hoffman Estates has a new electricity tax for high-volume power users (such as data centers) which will help the village to fund two new fire stations. Microsoft is also in the process of developing two data centers in the village.
Compass either operates or is developing around 16 data center sites across the US, Europe, and Israel. The company is currently planning an 11.55 million sq ft campus in Prince William County, Virginia. The company was acquired by Brookfield and Ontario Teachers Pension Plan in June 2023 for ~$5.5bn.
More in Construction & Site Selection