Colt Data Centre Services (Colt DCS) has officially opened its fifth data center in Japan, located in Chiba City, just east of Tokyo.
Inzai 2 is a six story building that will eventually house ten data halls, at 500 square meters (5,382 sq ft) each.
A substantial portion of the facility has already been pre-leased - Colt says it has seen more prelaunch interest than any other data center in the company's history.
Sold like hot cakes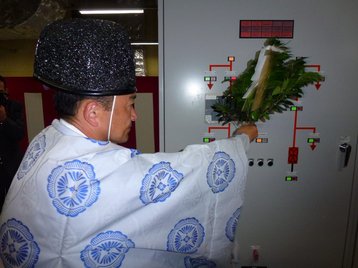 According to analysts at 451 Research, colocation market in Southeast Asia is expected to grow by 16.2 percent to $14.5 billion in 2018. Colt, a British company originally focused on Europe, entered the region with the acquisition of KVH in 2014, gaining seven data centers across Japan, Singapore, Hong Kong and South Korea.
The campus in Chiba was opened in 2011 and already hosts Inzai 1, an 8.4MW data center with 4,000 square meters (43,055 sq ft) of white space. A second facility will eventually add another 15MW of potential power capacity and 5,000 square meters (53,820 sq ft) of white space.
Inzai 2 utilizes direct expansion (DX) cooling and was designed to withstand earthquakes that occur frequently in Japan: the building sits on a bed of springs capable of holding 125 tons per square meter, isolating it from any seismic activity.
"The addition of this facility to the wider Inzai campus is a response to industry demand for facilities that will support the delivery of major cloud services in the region," said Detlef Spang, CEO of Colt DCS.
"As a carrier-neutral site, Inzai 2 will enhance our Core to Edge strategy, where we intend to connect our data centers together to provide our customers with flexible expansion solutions across our portfolio in the region, access to peering sites, and greater carrier options under a single secure environment."
Speaking to DCD in June, Robin Brown, Colt's VP of Portfolio, Strategy and Marketing, said the company was already looking forward to a further expansion in Japan, and potentially a third facility on the Inzai campus – but was not ready to announce any dates yet.