Flexenclosure has delivered a pre-fabricated modular data center to Columbian telecommunications company TigoOne, to be located in the country's mountainous capital, Bogotá. 
The facility is Flexenclosure's second such deployment in Latin America, with the company having built Paraguay's first Tier III certified data center in Asunción last year. It is the third modular data center for TigoUne's parent company, Millicom.
Latin America goes modular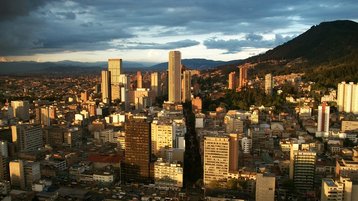 The 770 sq m (7535 sq ft) module is twice the size of its Paraguayan counterpart, and is located 2,640 meters above sea level, with both cooling and power equipment de-rated to cater for lower air density.
Flexenclosure's custom designed, pre-fabricated data center modules are engineered by the company in Sweden and sent to their destination, where they can be built in a fraction of the time it takes to construct a traditional facility.
And while companies including HPE, Schneider Electric, Huawei and Rittal have all developed their own data center modules, there are those who, like Flexenclosure, have fully specialized in building portable data centers, which are mainly used by telecommunications companies in developing countries.
The company's products have already been deployed by MTN, Vodacom and Burst Networks in countries which include Tanzania, Mozambique, Côte d'Ivoire, Ethiopia, Chad and Myanmar.
"This is our first project in Colombia, our second eCentre deployment in Latin America and our third data centre project with Millicom," said David King, CEO of Flexenclosure.
"We are delighted to have won the confidence of TigoUne to deliver this state-of-the art facility, and in doing so to expand our relationship with the Millicom group and reinforce our commitment to the Latin American market."