Denver-based colocation and interconnection provider Cologix has completed the first phase of its third data center in Columbus, Ohio.
Situated on the same campus as the company's first two facilities, an eight-acre parcel of land northeast of the Ohio State University Airport, the 160,000 square foot (14,864 sq m) data center will undergo several expansions, according to the company, which will happen organically in line with growing demand.
Cologix started with a single facility in Columbus in 2013, and aquired adjacent land and Ohio-based DataCenter.BZ in 2014 to bolster its presence in the city.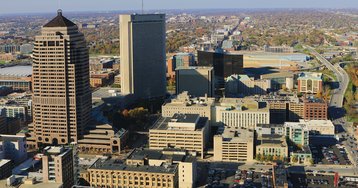 Christopher's land
The data center, which is the company's 25th, features N+1 redundancy on power and cooling, and has a an EF-4 tornado rating.
It offers connectivity to more than 20 cloud service providers and 50 network service providers including the Ohio-IX Internet exchange.
Despite being considered a Tier 2 market, Ohio is a favorite for hyperscalers, thanks to its location outside of natural disaster hot-spots, vast expanses of undeveloped land in the center of the US, and a climate suitable for the installation of free-air cooling systems. AWS and Facebook are heavily invested in the area, with the latter spending $750m to build a campus in New Albany.
For Cologix, Columbus is the ideal location within the state, since 47 percent of the population of North America is situated within a 500-mile radius of the city.
Grant van Rooyen, Cologix' CEO, said: "Columbus has been one of the fastest growing markets with the Cologix platform due to enterprise demand for robust cloud and connectivity choice."
"Our Columbus data centers are able to support and facilitate large cloud and enterprise deployments and we are proud of the role we play within the technology ecosystem in Columbus and look forward to continued investment in the market."