Carrier-neutral interconnection and colocation firm Cologix has started construction of a $130m+ facility on its Columbus campus, after purchasing extra land two years ago.
The 160,000 sq ft, 18+MW data center will become the largest carrier-neutral data center in Ohio's capital city.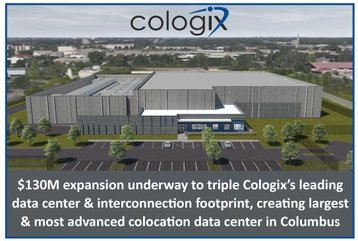 A boon for Columbus
The new data center will be able to withstand tornadoes of up to level 4 on the Enhanced Fujita scale, and offer connectivity to more than 45 network service providers, over 20 cloud service providers and the Ohio-IX Internet Exchange.
The project is expected to employ 128 full-time construction workers, with the first phase expected to be operational in mid 2017.
"Large enterprises are increasingly interested in outsourcing internal data centers with an eye toward leveraging cloud services for some aspects of their IT systems," Cologix CEO Grant van Rooyen said.
"Until now, there has not been a neutral facility in Columbus that can combine connectivity with the scale that can support large cloud and enterprise deployments, and we are excited to address that need with our new data center."
Kenny McDonald, President and CEO of economic development agency Columbus 2020, added: "Columbus is the fastest growing metro market in the Midwest in population, jobs and GDP.
"Cologix's expansion investment at the same time reinforces Columbus's regional importance in the telecom and cloud sectors and offers access to a range of services that help enable our local businesses to be competitive in the global economy."
Cologix, which bought Colo5 in Florida and Datacenter.BZ in Ohio in 2014, has been going through a stage of rapid expansion. Last year it acquired NJ Data Centers, opened its third data center in Minneapolis, and upgraded its facility in Jacksonville Florida, on the back of a $255m credit raise.
This year, the company also increased its edge data center presence in Canada.