Canadian colocation firm Colo-D plans to build a 150MW, 500,000 square foot (46,500 sq m) data center campus in Saint-Bruno-de-Montarville, 15km away from downtown Montreal.
The company will also expand its facility in Longueuil, adding 15MW of capacity and 80,000 square feet (7,400 sq m) of space by acquiring a building adjacent to the 'D2' site.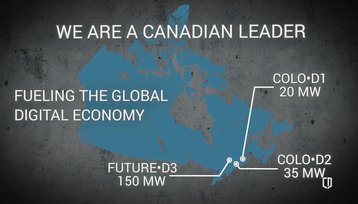 3D data centers
The campus, "designated D3, located on a property of over 22 acres, will be Colo-D's third location and will be designed and operated using the very latest in green technologies," Patrick David, the company's president and CEO, said. "Our clients will benefit from Quebec's stable and renewable power to improve their corporate responsibility."
He added: "With our new D3 campus, we will become one of North America's leaders in providing wholesale data center solutions."
The campus will be powered by two redundant 315kV electrical feeds, each serviced by two separate high-voltage sub-stations.
In addition to the new D3 site, and the soon-to-be-expanded D2 facility, Colo-D operates the 20MW, 120,000 square foot (11,150 sq m) data center codenamed D1 in the Greater Montreal region. Once all the facilities are fully built out, Colo-D expects to become Canada's largest data center provider to enterprise customers.