Cohesity, an American start-up that hopes to reinvent storage through a combination of hardware and software, has emerged from stealth with $70 million in venture capital.
The company is working on an infinitely scalable converged storage platform that brings together all of the non-mission-critical enterprise data under a single management layer.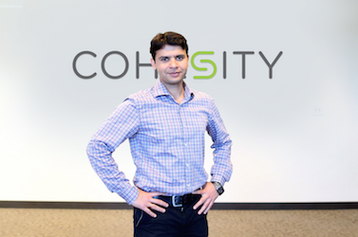 Drawn together

Cohesity was founded in 2013 by Mohit Aron, a former Google engineer who worked on the Google File System. Several years later, he co-founded converged infrastructure vendor Nutanix, where he served as the CTO.
Aron's latest venture leverages 'Google-like' web-scale architecture to unite storage devices used for backup, development and analytics into a single, centrally managed resource pool.
The platform runs on a specialized hardware appliance that ships with 96TB of disk-based storage and 6TB worth of SSDs.
Just like the rest of its hyper-converged brethren, Cohesity aims to replace complex environments that combine hardware from multiple vendors with just one type of box that offers built-in copy data virtualization, support for snapshots and integration with public cloud resources.
"My years of work on the Google File System taught me how to put the fundamentals of distributed systems to work to scale for a single application, and this was what I then applied to virtualization with hyper-convergence," said Aron in a blog post.
"Now, we're taking on a bigger challenge for distributed systems by building an architecture that scales for multiple simultaneous data workflows with different performance and resiliency requirements, all while handling massive and seamless scale, fault-tolerance and non-disruptive operations. I believe it's the culmination of how web-scale technology can truly have a broad effect on enterprise IT."
The start-up raised a total of $70 million in funding across two rounds, from investors including Google Ventures and Sequoia Capital. It will use the money to scale its engineering, sales, and marketing teams to ramp up ahead of the general release.
The Cohesity Data Platform is already available through the early access program.