American storage start-up Cohesity has found a powerful ally in Pure Storage, a well-established vendor of all-flash arrays.
Thanks to a partnership between the two, Cohesity will be able to offer native data protection and recovery services to the owners of Pure Storage FlashArray//M products.
The deal also empowers Pure Storage customers to leverage public cloud for long-term data retention and accelerate DevOps with instantaneous copies of any production applications.
"Cohesity complements our all-flash strategy with a simplified data protection solution that improves recovery speed while lowering overall cost of ownership compared to traditional data protection solutions, which allows us to deliver increased value to our joint customers," said Matt Kixmoeller, VP of products at Pure Storage.
Match made in heaven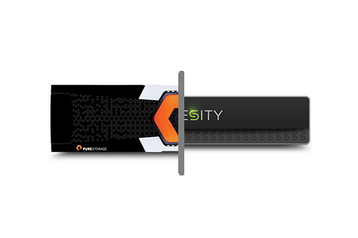 Cohesity emerged from stealth in 2015 to help customers consolidate all of their secondary storage on a single hyperconverged platform that spans both private and public clouds. Its products integrate backup, recovery, replication and target storage functionality.
Meanwhile Pure Storage became one of the first vendors to offer 'flash at the price of disk' – the claim was based on high levels of data reduction and compression, but it helped to propel the company towards an IPO in 2015.
The two companies have decided to combine their products for mutual benefit: customers can use hardware from Pure Storage for their 'hot' data, and Cohesity platform for less frequently accessed resources, while still remaining within the Pure operating environment.
According to the press release, additional benefits of the combined solution include:
Automated management via pre- and post-snapshot scripts to put applications in an app-consistent state prior to initiating a snapshot
Ability to recover from Cohesity to any Pure Storage FlashArray//M in the same data center or in a separate disaster recovery site
Native integration with the Amazon, Google and Microsoft public clouds for low-cost retention of snapshots over the long term
Ability to instantaneously clone any snapshot at zero cost to a test/dev Pure Storage array to simplify provisioning of development environments
"Pure and Cohesity work seamlessly together to empower our joint customers with a best-in-class solution that reduces overall data protection costs with a second layer of protection, and provides a cost-effective solution for DevOps provisioning," said Patrick Rogers, VP of marketing and products at Cohesity. "This is the future of the data center, and we're excited to team up with Pure to bring this to a broad range of enterprises."