A new start-up revealed itself last week, with the stated intention of challenging AWS's dominance in the cloud market.
Pensando Systems was founded by five ex-Cisco engineers in 2017 - Mario Mazzola, Prem Jain, Luca Cafiero, Soni Jiandani and Randy Pond - but has only just made itself publicly known. John Chambers, CEO of JC2 Ventures and ex-Cisco CEO, is the company's chairman.
A total of $278m has been raised so far for Pensando Systems via its A, B, and C rounds. The latest investors are Hewlett Packard Enterprise and Lightspeed Venture Partners - earning Mark Potter CTO of HPE and Harry Eggers from Lightspeed Venture Partners a seat on the board of directors.
Other investors include Equinix, Goldman Sachs, Oracle, and NetApp.
Democratizing the cloud
Pensando also took the opportunity to announce its "flagship" software, The Pensando Platform.
On CNBC's Squawk Alley the company said that it would be to AWS what Android was to Apple's iOS, opening itself up to private entities to create their cloud systems.
The company says it can deliver highly programmable cloud, compute, networking, storage, and security services wherever data is located - helping private data centers replicate Edge computing methods.
On CNBC, Chambers made the bold claim that the platform could surpass AWS Nitro by five to nine times the "productivity, performance, and scale."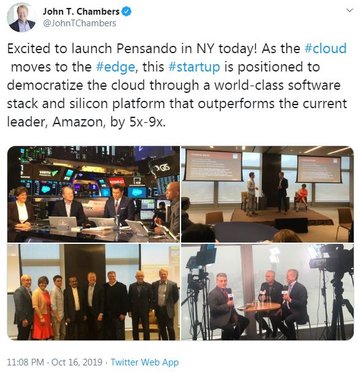 Simplifying data
Mark Potter, the new board member and CTO of HPE, said: "HPE's expanding relationship with Pensando Systems stems from our shared understanding of enterprises and the cloud.
"We are proud to announce our investment and solution partnership with Pensando and will continue to drive solutions that anticipate our customers' needs together."
Joshua Matheus, managing director at Goldman Sachs, said: "[We are] significantly simplifying our data center architecture and reducing expenses with Pensando.
"Pensando allows us to secure our east-west data center traffic while ensuring compliance, and at the same time, with improved telemetry, we reduce our time-to-problem resolution from hours to minutes."