CKW Fiber Services has opened a new data center in Rotkreuz, Switzerland.
First announced in October 2021, the CKW subsidiary built the new DC Zug data center next to the CKW Rotkreuz substation in Zug canton.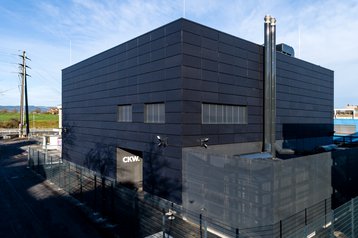 The new building offers 700 sqm (7,550 sq ft) of floorspace and is fully equipped with solar panels to help power the building's operations. It will also utilize free-air cooling.
A total of 1,021 solar modules are installed on 1,165 sqm (12,550 sq ft) both on the roof and on the facades, which will produce around 135,000-kilowatt hours of electricity per year
While CKW is doing its bit here, this power represents a tiny fraction of the power used in the data center. The panels produce 135,000kWh over the whole year, which averages to the equivalent of 15kW continuous load, which could be consumed by one single server rack on current trends. At a rough estimate, the 700 sqm of floorspace in the facility could hold up to 600 racks.
"The CKW Group is one of the leading providers of solar systems in Switzerland, so of course we also rely on renewable electricity production for our own projects," said Roberto Cresta, CEO at CKW Fiber Services. "The location near the substation not only offers the best conditions in terms of electricity, data network connection, and geographical accessibility, it also meets the increased need of companies in the Zug region for a secure, highly available infrastructure for highly sensitive data and paves the way for all customers to a wide variety of clouds applications."
The company said it invested 10 million francs ($10.7m) in the new building and around 1.6 million francs ($1.7m) in the fiber optic backbone expansion in the cantons of Zug and Lucerne.
The CKW Group is a Swiss provider of integrated energy and building technology solutions, developing hydroelectric, solar, wind, and biomass power plants. Energy company Axpo Holding AG is the majority shareholder of CKW. CKW Fiber Services provides business customers and ICT providers with connectivity and IT infrastructure services.
The company operates three other facilities – known as DC LuZ Nord, Mitte, and Ost– in Lucerne.