Cisco has unveiled Tetration Analytics, a real-time data center analytics platform designed to give visibility into "every packet, every flow, every speed."
Tetration uses both hardware and software sensors to gather information and then analyze it by applying machine learning. It looks at application insights, security white lists, policy simulation and impact analysis, compliance management, and network flow forensics. 
The product will be available from July 2016.
See everything, know everything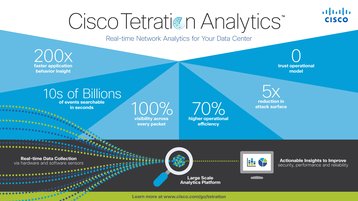 The company claims that users will be able to "search across billions of flows in less than a second using Tetration's forensics search engine and user interface."
"We've also built in what amounts to a "time machine for the data center" that gathers and stores historical data and simulates what might happen," Cisco CEO Chuck Robbins said in a blog post.
"With this "rewind" capability, our customers can review the past and replay events in real time, plan for the future, and even freeze time and examine exactly what happened at a specific second." 
For the first version of Tetration, the software sensors support Linux and Windows server hosts. Hardware sensors are embedded in the ASICs of Cisco Nexus 9200-X and Nexus 9300-EX network switches. One Tetration appliance can monitor up to one million unique flows per second.
The platform also supports open APIs, with plans to build a broad partner ecosystem. "The goal is to think of this like Android or iOS, where you build a platform, a handful of applications and open it up to the community so they can build on it," senior director of product management for Cisco, Yogesh Kaushik, told LightReading.
Cisco calls Tetration a "one-touch" appliance as the servers and switches are prewired and the software is pre-installed. While the company insists deploying is quick and easy, it also offers Cisco Tetration Advanced Services for support and guidance in optimizing performance.
Brad Casemore, research director for data center networks at IDC, said: "Real-time analytics – based on recent advances in unsupervised machine learning, behavior analysis, and visualization – facilitate the pervasive visibility required to gain insight into and control over application mobility, security, and datacenter-wide infrastructure."
"You can't manage or secure what you can't see… Tetration provides unprecedented visibility," added Zeus Kerravala, principal analyst at ZK Research.