Cisco has entered the hyperconverged infrastructure market with the launch of HyperFlex HX series of appliances.
This could be seen as the vendor's most important server announcement since it launched the Unified Computing System (Cisco UCS) in 2009.
The HyperFlex system integrates UCS – which already includes compute, virtualization and networking fabric - with software-defined storage software from Springpath to create a fully-featured system-in-a-box.
Cisco does storage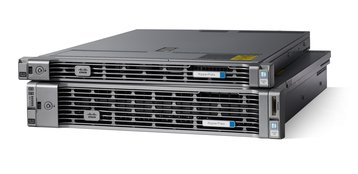 Hyperconverged appliances bring compute, servers and storage together in a single virtualized package. They are usually designed as 1U or 2U building blocks that can scale to thousands of nodes for large scale infrastructure deployments.
Cisco positions HyperFlex as a second generation hyperconverged system, and says it was built to avoid the pitfalls that have affected some of its competitors.
The new appliances promise plug-and-play deployments in less than an hour and independent scaling of compute, network and storage capacity.
The centerpiece of Cisco's hyperconverged kit is the HyperFlex HX Data Platform Software, which delivers native storage services like rapid clones and snapshots, as well as inline data compression and deduplication that can reduce the size of datasets by up to 80 percent.
The HyperFlex HX Data Platform was built on solid foundations developed by hyperconverged software startup Springpath (formerly Storvisor). The partnership follows a strategic investment Cisco made into the company, publicized early this year.
Initially, the HyperFlex range will include two types of nodes. The HyperFlex HX220c M4 is a 1U appliance that features two Intel Xeon E5 2600 v3 processors and up to 7 TB of raw storage capacity on 10K drives. Meanwhile the HyperFlex HX240c M4 is a 2U appliance with the same processors and up to 29 TB of raw capacity.
HyperFlex HX240c is also available packaged with UCS B200 M4 blade servers to enable customers to scale compute and storage independently.
Cisco has enjoyed success in networking, but HyperFlex aims to compete in a brand new market segment, where the company will have to fight against both startups that have focused on hyperconverged infrastructure from their inception, and established vendors that have already made the switch to hyperconverged.
The first category includes the likes of Nutanix and Simplivity, while the second consists of companies like EMC and Hitachi, which chosen the path of least resistance by building their hyperconverged appliances on top of VMware's EVO:Rail.
What makes matters even more complicated is OmniStack - the combination of Cisco's UCS and hardware from Simplivity, which was announced earlier this year.