Real estate firm Gardner Company has launched a data center subsidiary, Cirrus Data Services, which plans to develop a 160MW campus in the Salt Lake City region.
The first phase of the View 78 Data Center will feature 224,000 square feet (2,230 sq m) of data center space with a load capacity of up to 32MW. 
Cirrus Data Services should not be confused with Cirrus Delaware, or Cirrus Data Solutions.
Room to grow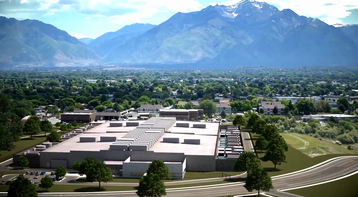 "The Salt Lake City data center market is growing; major firms and organizations are coming to Utah because of the many advantages this State has to offer," James Jeffries, president of Cirrus Data Services, said.
"Our new data center campus located in the View 78 development in Midvale is designed for both hyperscale and wholesale tenants including cloud service providers, enterprise companies, and other large-scale tenants.
"Our product is intended to be scalable and provide an adaptable solution to meet the needs of sophisticated tenants in this sector."
Cirrus Data Services was launched 10 months ago with Jeffries as its president, although it wasn't publicly revealed until now. Jeffries was previously the founder of Consult Connect, a consulting firm specializing in advisory services in high-tech facility planning and program management.
The facility in Midvale is expected to offer Tier II and Tier III level topographies, and will support low-density and high-density racks. The company is targeting a power usage effectiveness (PUE) of less than 1.2.
At full capacity, the campus could offer up to 160MW of power, with more than 1,120,000 square feet (104,100 sq m) of data center infrastructure. The company is evaluating the possibility of a second large-scale campus in Salt Lake City.
CirrusDS turned to several partners to help with the View 78 development, including ArchNexus, Spectrum Engineers, Revealey Engineering and JLL.
"We here at JLL are extremely excited to be a part of bringing this cutting-edge project to market," regional VP Andrew Lewis said. "The vision that Cirrus Data Services has for this site will absolutely raise the bar for data centers."
Road and utility infrastructure is currently under construction, while the data center construction contract is scheduled to be awarded later this month.