Finnish networking specialist Cinia has successfully deployed a submarine fiber optic cable between Rostock in the north of Germany and Helsinki in Finland.
The company says the new C-Lion1 cable will offer the shortest and fastest route to connect businesses in central Europe with popular data center locations in northern Europe, where electricity is cheap and the climate – cold.
In the future, the cable could be extended to create a new high-capacity network between eastern and western Europe – and eventually Asia. The project is supported by the government of Finland and the European Union.
The engineering work on the cable was carried out by Alcatel-Lucent, with German data center specialist Hetzner a principal investor in the project.
C-Lion1 is expected to become commercially available this spring.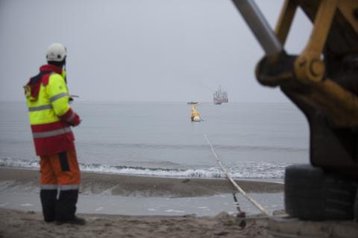 A boon to European data centers

Alcatel-Lucent began laying the cable in October 2015, meaning it took the company just three months to roll out more than (1,100 km) of fiber.
C-Lion1 consists of eight optical fiber pairs with a total capacity of 120 terabits per second. For ease of deployment, the cable itself was being laid along the Nord Stream gas pipeline, which stretches from Vyborg in Russia to Greifswald in Germany.
The project is expected to contribute to the progress of the European Digital Single Market by improving networking across the continent. It is also likely to further boost interest in data center building in Finland, a country which currently enjoys the lowest electricity prices in Europe.
"The new direct subsea data connection supports the development of the new European data center concept and will provide a major business opportunity for companies both in Finland and Europe", said Ari-Jussi Knaapila, CEO at Cinia Group.
Hetzner Online will be one of the first to take advantage of the C-Lion1 cable. In December 2015, the company announced plans to build a large data center campus in Tuusula, Finland. It already runs massive data center parks in Germany, in Nuremberg and Falkenstein.
"The direct link between mainland Europe and Finland lays the foundation for our new data center park near Helsinki", said Martin Hetzner, founder and CEO of Hetzner Online.
"The new submarine cable provides a latency-optimized broadband connection between the Northern region and the Central European internet infrastructure in Frankfurt. Hetzner Online will use a portion of the fiber optic cable for a secure and fast connection from its current data centers to the Nordic countries, and so assumes more control over the quality of data transmission."