Yihaodian, one of China's largest online shops has adopted network equipment vendor A10's application delivery controller (ADC) to make its site more reliable. 
Founded in 2008, Yihaodian has a turnover of more than 11.5 billion CNY ($1.85bn) based around virtual stores. It is 51 percent owned by US giant Walmart., and has 57 million registered users, including 15 million registered "Yihaodian on Palm" users who can order through mobile phones. Goods are shipped from warehouses and logistics centers in Shanghai, Beijing, Guangzhou, Wuhan, Chengdu, Quanzhou, and Jinan.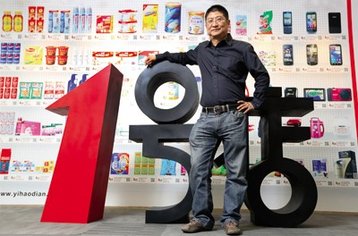 Saving with open source?
Like other e-commerce players, Yihaodian started out with the idea of using open source software to save costs. However, the company says that open source software did not meet its requirements for stability and flexibility as the site and its traffic grew rapidly.
Since then the e-commerce company has been sourcing commercial solutions from various providers, and A10 Networks is one of them.
In 2013, Jun Han, CTO of Yihaodian approached A10 Networks, looking to address network traffic spikes and protect the site against network attacks. As a result, he adopted the provider's ADC solution.
A10 Networks' ASIC-based ADC is an evolution of traditional server load balancers (SLBs), designed to keep customer data center applications and networks available, accelerated, and secure, providing DDoS prevention, session synchronization and high availability (HA). 
By offloading these functions, the system releases processor resources for other jobs, so the whole system performs better.
The ADCs are deployed at the front end of the web site, and are located at content delivery network (CDN) nodes, where they operate at seven levels including connection multiplexing, HTTP tuning and URL-hashing.
"At Yihaodian's website, our ADC solution serves as the 'nerve centre', and plays a vital role in balancing traffic, addressing the IP address shortage issue and dealing with DDOS attacks,"an engineer from A10 told DatacenterDynamics in a telephone interview.
"We choose solutions with the lowest total cost of ownership (TCO), which are to the best of our benefits, whether they are open sourced or commercial ones. A10 Networks's application delivery solutions are good at handling highly concurrent transactions, boasting stable performance, low management cost, and cost-performance ratio , and those are the very reasons we have chosen them," Mr Han of Yihaodian told us.
Apart from Yihaodian, A10 Networks' ADC solutions have been applied to the data centers of large organizations such as Microsoft's Xbox and Azure networks, as well as other large telcos, internet companies, large and mega enterprises.