Alibaba, Baidu and Tencent plan to upgrade their data centers with Nvidia's Volta-based GPUs, a significant step up from the Pascal architecture systems they used before.
At the GTC China conference in Beijing, all three companies announced that they will use Tesla V100 GPU accelerators, which Nvidia claims offer five times more performance than the P100.
Good for society… and bottom lines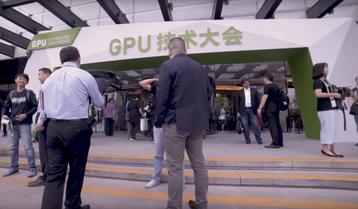 The Chinese e-commerce company, search engine and tech conglomerate will use the 21 billion transistor GPUs to process artificial intelligence and deep learning algorithms, a rapidly growing field.
"AI is the most important technology development of our time, with the greatest potential to help society," Nvidia CEO Jensen Huang said.
"As the world's leading cloud providers deploy the world's best AI platform, with Volta GPUs and Nvidia software, we'll see amazing breakthroughs in medicine, autonomous transportation, precision manufacturing and much more."
YaQin Zhang, president of Baidu, added: "Working closely with Nvidia, we are taking full advantage of the power and efficiency of Volta to strengthen Baidu Cloud, Intelligent Driving and our other AI initiatives. By leaning into the most advanced AI technology available, we are accelerating the application of AI to create more opportunities for our customers and society as a whole."
While Baidu is working with Nvidia, less than a month ago the company announced it would also collaborate with chipmaker AMD on optimizing software for Radeon Instinct GPUs in its data centers, as well as purchase the company's Epyc server CPUs.
Tencent's senior executive VP Dowson Tong said: "We use AI extensively on our products to improve the user experience, such as voice recognition in WeChat, augmented reality in QQ and Qzone, as well as providing data intelligence services on Tencent Cloud.
"Volta GPUs will enable our developers with unprecedented computing power to enhance our products, and we look forward to bringing the power of Volta with HGX to other businesses soon through Tencent Cloud."
The VP of Alibaba Cloud (also known as AliYun), Jin Li, added: "With Alibaba Cloud's leading cloud computing capabilities and accelerating AI developments worldwide, we look forward to exploring enhanced AI-enabled services and cost-effective AI research and development by collaborating with Nvidia and its Volta platform."