Chinese hyperscale data center provider Chindata has announced a new waterless cooling system, apparently developed with help from Vertiv.
Chindata reckons that X-Cooling, announced at a Chinese tech conference last week, is the "world's first waterless cooling technology", with a claim that it enables data centers to work without consuming any water, giving it a WUE (water usage effectiveness) figure of zero.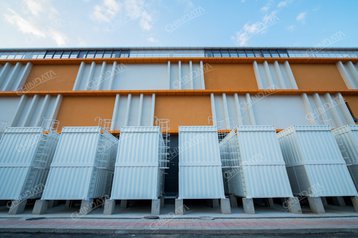 According to the brief Chindata release, X-Cooling was revealed last Friday by CTO Zhang Binghua, along with technology partner Vertiv, at an event described as the 2022 China Computing Conference
"Chindata Group is very pleased to release details of 'X-Cooling,' the world's first waterless cooling technology," said the CTO, but the release actually contains very little detail - and the zero-WUE claim might be up for dispute, as immersion cooling vendors such Submer, Asperitas, and GRC have long included zero water use as a benefit of their oil-based cooling system.
According to the release, the system uses "a complex coordination of software controllers and hardware induction technology which matches ambient temperatures to generate a natural cooling process that reduces energy consumption".
DCD has asked Chindata and Vertiv for more information, as there are no links to any details. We've not been able to track down the 2022 China Computing Conference. Zhang Binghua previously worked at Baidu and Beijing Telecom, and was appointed in April 2022.
The phrases "hardware induction technology" and "natural cooling process" don't call up any good leads.
Chindata offers a comparison with commonly used indirect evaporative air handling unit (AHU) technology, saying X-Cooling achieved a PUE <1.1 and WUE of 0 liters per kWh of power used. This means a 100MW data center in Hebei could save 1.2 million tons of water per year if it switched to X-Cooling, according to the company.
Chindata says X-Cooling is controllable and can adjust in real-time to accommodate changes in the indoor load and the outdoor environment, all of which are standard features of any modern data center cooling technology. It also has "a one-click on/off switch in case of emergencies".
Chindata has been building carrier-neutral hyperscale data centers in China, but has had some changes, since December 2021, when the company's founding CEO, Jing (Alex) Ju stepped down suddenly. Ju was replaced by Wu Huapeng in February 2022, but rumors suggest the company is now getting takeover bids from rivals including GDS.
The company has received credit for a green strategy, with a promise to be carbon neutral by 2030. In September 2021, the company bought 100,000MWh of green electricity, China's first nationwide renewable power contract.