The five hundred meter Aperture Spherical Radio Telescope (FAST) in China is set to get a data center to store and process the huge quantities of data produced by the world's largest radio telescope.
The facility is expected to cost 160 million yuan (US$23 million) and take up a total of 40,000 sq m (430,556 sq ft).
Star stores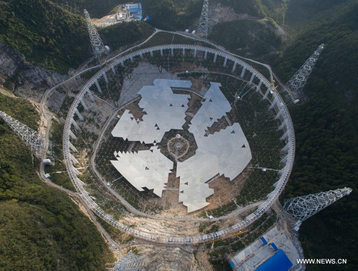 This week the China National Astronomical Observatories under the Chinese Academy of Sciences signed an agreement with the government of Gui'an New District in southwest China's Guizhou Province greenlighting the data center project.
According to state media Xinhua, deputy director of the observatories Zheng Xiaonian said that FAST would produce 'tremendous amounts of data.' Over the next decade, Zheng expects the FAST Data Center to have 100 petabytes of data storage and a computing power of 1,000 teraflops.
In 2015, talk of a supercomputer for the the facility surfaced, but news regarding 'Sky Eye 1' since its original reveal has been limited. It appears that the FAST Data Center is the latest incarnation of Sky Eye 1, this time with the necessary local approval.
FAST is set in the Dawodang depression of Pingtang County, Guizhou Province, nestled among karst hills.
But while its location is rather remote, the country still had to relocate more than 8,000 people within a 5km radius to create a radio-quiet zone. As a result, the local government faced lawsuits and accusations of forced demolitions and unlawful detentions, ultimately leading to the government spending $269 million in poverty relief funds and bank loans. The project itself cost $180 million.
FAST, which is made up of 4,500 individual metal panels, came online in September 2016, but is to spend three years in a testing phase.
It aims to undertake a large scale neutral hydrogen survey, help with pulsar observations, lead the international very long baseline interferometry (VLBI) network, detect interstellar molecules and detect interstellar communication signals.