China is planning to launch a pre-exascale supercomputer this year, according to Xinhua, the official press agency of the People's Republic of China.
Zhang Ting, a researcher with the National Supercomputer Center in Tianjin, claims that the new system "will be 200 times faster and have 100 times more storage capacity than the Tianhe-1 supercomputer, China's first petaflop supercomputer launched in 2010." That could put it ahead of the United States' upcoming Summit supercomputer, which was set to become the most powerful high performance computing (HPC) system in the world at launch.
More power to them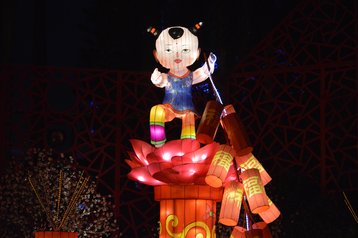 Based on Zhang's rough estimate, Top500 calculates that the new supercomputer could deliver around 240 peak petaflops, as Tianhe-1 delivers 1.2 peak petaflops and 563 Linpack teraflops.
That would easily beat today's most powerful supercomputer, the Sunway TaihuLight, which delivers 125.4 peak petaflops. Perhaps of more interest is whether the system will beat the US Department of Energy's upcoming Summit supercomputer.
Summit is expected to be five to 10 times as powerful as Oak Ridge National Laboratory's current top system, Titan. Titan is the fourth most powerful computer on the Top500 list, with a peak performance of 27.1 petaflops and a Linpack result of 17.6 petaflops. Summit will be comprised of approximately 4,600 nodes, each with six 7.5-teraflop Nvidia V100 GPUs and two IBM Power9 CPUs, which Top500 estimates will lead to an aggregate peak performance of "well over" 200 petaflops.
The US began installing the supercomputer last year, with a plan to make it available to scientific researchers by early 2019.
China's new system, meanwhile, could well be the Tianhe-2A, an oft-delayed machine that was meant to launch last year. At one point, it was expected to deliver 100 petaflops, but could have been upgraded.
"The Tianhe-1, which performs more than 1,400 tasks each day, is running at full capacity. We need a new-generation supercomputer to replace it," Zhang said.
Should this replacement prove more powerful than Summit, it will help strengthen China's already strong grip on the top supercomputer list.