American infrastructure specialist Chatsworth Products has certified its Z4 Series SeismicFrame cabinet systems as suitable for the most seismically active regions in the world.
The cabinets have received Pre-Approval of Manufacturer's Certification (OPM) from the California Office of Statewide Health Planning and Development (OSHPD). This means they are fully compliant with the requirements of the latest California and International Building Codes, and can be incorporated into designs of earthquake-resistant data centers.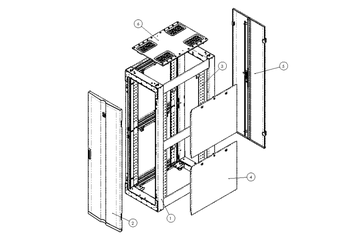 California Über Alles
California is located on the San Andreas Fault, which forms the tectonic plate boundary between the Pacific and the North American Plate, resulting in thousands of small earthquakes per year.
In response to the 1971 Sylmar earthquake, which caused several hospitals to collapse, the state passed the Hospital Facilities Seismic Safety Act. A decade later it established OSHPD to issue specific guidelines for equipment that can perform under stress.
OPM is a voluntary program for review and pre-approval of seismic design of supports and attachments for non-structural components that will be used in construction of hospitals in California. However, the components themselves don't have to be exclusive to hospitals – if it's good enough for healthcare, it's good enough for the data center.
Chatsworth's Z4 cabinets are an update to its original Seismic Frame, launched way back in 2001. They are designed to withstand the seismic stress of an 8.3 magnitude earthquake while carrying up to 680 kg of hardware and 45 kg of cables.
The range Includes four sizes of 40U cabinets, and four sizes of 43U cabinets. All of them have now obtained OPM-0112-13 certificates. In order to prove its equipment can support the design requirements of the code, Chatsworth had to submit test data prepared by a third-party design professional.
The same range of products has been tested by Telcordia Technologies against the GR-63-CORE standard for network switching systems, which looks at spatial requirements, fire resistance, acoustic noise and light pollution. It also involves a series of shaker table tests under full equipment load to simulate a severe earthquake.
Last week, heavy machinery specialist Caterpillar announced it had certified 19 generator sets against OSHPD guidelines.