American critical infrastructure specialist Chatsworth Products (CPI) has launched a range of data center cabinet locks with advanced security and remote management features.
The eConnect Electronic Access Control (EAC) system is a networked lock with smart card authentication that allows data center managers to track and log each instance of cabinet access. It was designed to complement CPI's existing eConnect power distribution unit range.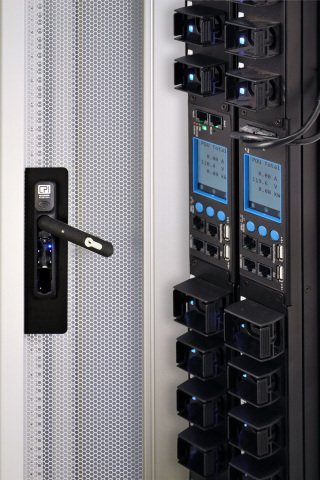 Two become one

eConnect enables customers to remotely program, monitor and control access to each cabinet while keeping a log for security and regulatory compliance purposes.
It features a traditional mechanical lock and a proximity card reader, designed for 125 kHz or 13.56 MHz RFID cards. The lock has an electronic swinghandle with integrated sensors for lock and latch status, monitoring and alarm functions.
eConnect fully integrates with CPI's vertical eConnect PDUs that have proprietary auxiliary ports, removing the need to power and network the locks separately. When combined, the two devices can provide rack-level power management, environmental monitoring and remote access control in a single system.
eConnect also supports Secure Array IP Consolidation, which allows up to 32 PDUs – that's 16 cabinets with front and rear locks - to be linked using just one network connection and one IP address.
eConnect can be managed using CPI's Power IQ and third-party DCIM software.
The locks can be ordered individually, or as part of fully configurable GF-Series GlobalFrame or F-Series TeraFrame cabinets.