Cerebras Systems plans to deploy nine artificial intelligence supercomputers in the US for UAE-based G42.
The company, which develops wafer-scale chips, has already deployed the first system at Santa Clara data center host Colovore.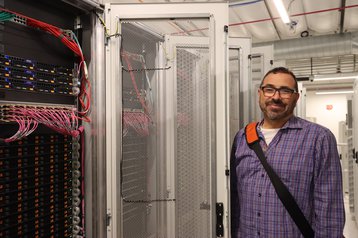 In total, Cerebras plans to field 576 CS-2 systems - each of which contains the Wafer Scale Engine 2, the world's largest chip - for 36 exaflops of performance at FP16. The WSE-2 has 2.6 trillion transistors, 850,000 'AI optimized' cores, 40GB of on-chip SRAM memory, 20 petabytes of memory bandwidth, and 220 petabits of aggregate fabric bandwidth.
The first phase of the Condor Galaxy 1 system is now online, featuring 27 million AI compute cores and two exaflops of single precision AI performance. In a few months that system is expected to double in size to 64 CS-2s.
In the first half of 2024, two more will come online in different data centers - one in Austin, Texas, and another in Asheville, North Carolina - and then a further six are planned later in the year, Cerebras CEO Andrew Feldman told DCD. "We're in negotiation for power and space," he said of the deployments for next year.
"Collaborating with Cerebras to rapidly deliver the world's fastest AI training supercomputer and laying the foundation for interconnecting a constellation of these supercomputers across the world has been enormously exciting," Talal Alkaissi, CEO of G42 Cloud, added. "This partnership brings together Cerebras' extraordinary compute capability, together with G42's multi-industry AI expertise. G42 and Cerebras's shared vision is that Condor Galaxy will be used to address society's most pressing challenges across healthcare, energy, climate action and more."
Compute not used by G42 will be made available over Cerebras' cloud platform, which G42 previously used to evaluate the hardware. At the Colovore facility, Cerebras runs the 16 CS-2 Andromeda supercomputer, through which it offers its cloud service.
G42 is involved in a number of sectors, including healthcare, data analytics, cloud services, and even traditional data centers through its acquisition of UAE-based Khazna. Controlled by the National Security Advisor of UAE, Tahnoun bin Zayed Al Nahyan (the son of the founder of the UAE), the company has also been accused of developing spying tools for the state.
G42 is led by CEO Peng Xiao, who previously worked for DarkMatter, which is accused of being a state-surveillance-for-hire cybersecurity firm. There, he helped develop Pegasus, a spying software that was allegedly used by the Saudi Arabian government to hack journalist Jamal Khashoggi's phone prior to his murder. G42 has denied a connection between the two companies.
Earlier this year, G42 took a $100 million stake in TikTok owner ByteDance. Cerebras said that it would work with G42's three international subsidiaries, G42 Cloud, the International Institute for AI (IIAI), and G42 Health.
For the next issue of the DCD Magazine, out later this month, we headed to Colovore's data center to talk to the colo company and Cerebras' Feldman about both companies' aggressive plans for expansion in the age of AI. Subscribe for free today.