Runner has been released by CenturyLink to automate cloud or data center platforms. It is a hybrid environment tool that can manage and orchestrate configurations whether running on its own CenturyLink Cloud, a cloud provider's data center, or an on-premises private cloud, the company said.
The automation platform is an open source service underpinning custom services and APIs developed by CenturyLink to make job execution easier. Runner securely connects to various infrastructures wherever they reside, allowing for both push and pull-based communication.
Standalone or integrated
Provisioning, configuration and deployment jobs can be created either within the dashboard or through APIs to allow access from other configuration management toolsets. Ansible Playbooks has already provided links where Runner uses Kubernetes and Docker to auto-create and auto-destroy the Ansible "workers" necessary to run each job. When the job has completed, all resources are torn down and deleted by Runner.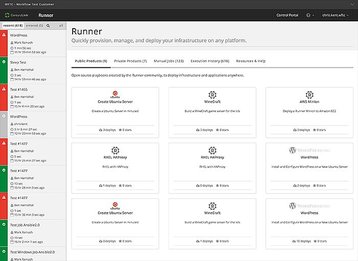 The Runner tool connects environments and then provides a single dashboard to provide visibility on the various activities, such as automatically powering down an infrastructure when it is not in use and to schedule it to turn back on when required, or to scale infrastructure to meet capacity, and to backup or sync data across different platforms.
The dashboard has been designed for single-click job execution to update servers across different environments even within the same job. Installing, patching, and updating operating systems can be executed across a few servers or thousands with consistent results, CenturyLink claimed.
Runner can download, configure, and expose the software required for installation on a tiled menu, whether it is, for example, the latest blogging platform release or an application to monitor traffic or usage patterns.