German distributed computing startup Cloud&Heat has built an unusual liquid-cooled data center that exports waste heat to achieve low PUE of 1.05.
The facility is currently 60 percent occupied, and all of the servers in the basement are providing heating and hot water to the flats above. Without the heat pump in the equation, Cloud& Heat says it achieves partial PUE of 1.01.
The Cloud&Heat enclosures are exhibited at the CeBIT exhibition in Hanover, which concludes on Friday.
This cloud is HOT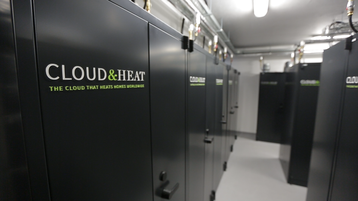 Cloud&Heat came to market with an innovative idea - it developed a compact server enclosure for 'edge' data centers and branch offices that collects heat produced by components like CPUs and RAM, and then uses it to provide heating and hot water to a residential or office building.
The data center in Dresden has been running for an entire year, and now the company has shared its observations with the world.
"The latest results measured in our data center at Wallotstraße in Dresden undercut the energy values of the most modern and efficient server facilities significantly. Also, those of Google and Facebook," said Nicolas Röhrs, CEO of Cloud&Heat.
According to internal measurements, the servers in a Cloud&Heat enclosure reliably produce PUE of 1.05. For comparison: Google states its data centers aim for optimum PUE value of 1.06 and an average value of 1.12. Facebook advertises with a PUE of 1.08.
Since the enclosures export waste heat, they also introduce a second metric – Energy Reuse Effectiveness, or ERE. In a data center that doesn't reuse its heat and just vents it outside, ERE is equal to PUE. At the Dresden facility, ERE stands at 0.62 with the heat pump running.
The system reduces CO2 emissions in two ways – firstly, it doesn't spend any energy on cooling and secondly, it replaces the energy that would be spent on heating the building.
The product is aimed at both businesses that want efficient private cloud infrastructure, and private landlords that can rent out their infrastructure. Cloud&Heat also runs its own Infrastructure-as-a-Service platform that relies on its distributed network. So far, around 100 Cloud&Heat cabinets have been deployed around Germany.
"The result of the interaction of computing and heating power is highly efficient. If a company installs ten server cabinets of Cloud&Heat in its own data center with a PUE value of 2.0, it can save about 70,000 Euro a year. About 10,000 Euro can be saved as heating costs and 65,000 Euro can be saved, which the company does not have to spend for cooling its servers ," explained Röhrs.
"This is also a positive outcome for the environment. About 180 tons of carbon dioxide can be saved annually. With our new generation of devices, we can increase these values once more."