At CEBIT 2018 this week, Huawei released the latest iteration of FusionCloud, the company's enterprise private cloud platform. FusionCloud 6.3 adds new services and capabilities, designed to support business users and aid migration to the cloud.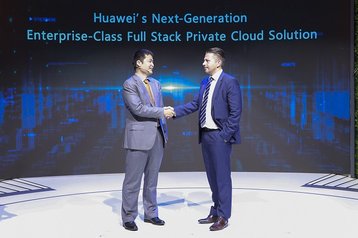 Help getting to the cloud
According to company executives, the new version is an integrated services framework that can be quickly rolled out in private cloud deployments.
It has more than 40 cloud services, including support for mainstream databases such as Oracle, SQL Server, MySQL and PostgreSQL. Other of capabilities such as FusionBridge are designed to help enterprises migrate applications into the cloud. 
Under the hood, hybrid orchestration of containers and virtual machines allows automatic distribution and deployment of complex services. On the infrastructure-as-a-service (IaaS) front, FusionCloud offers bare metal capabilities and support for GPUs and SAP HANA to help enterprises easily move their core applications to the cloud.
The big change
"What we've found is that customers want more services in the private cloud. What we've done [in FusionCloud 6.3] is to focus on services," explained Ronald Raffensperger, the CTO of data center solutions at Huawei Technologies to DCD. "You get Kubernetes [container orchestration], you get SAP HANA, big data as a service, these kinds of capabilities."
"What we've done is created new version of a lot of the same services that are more appropriate for the private cloud. [Previously] we were kind of going into two parallel tracks: one related to carriers and one related to the private cloud. We've brought them together again with FusionCloud 6.3," he summed up.
Moving to cloud computing is not the end goal for most enterprises, observed William Dong, vice president of marketing solution sales at Huawei. Instead, enterprises are really focused on how the cloud can help them transform their business to come out ahead of their competitors.
"Huawei's newly released solution enables the fast migration of critical services to the cloud through cloud service stacks based on software-hardware synergy. In addition, the solution enables enterprises to rapidly deploy applications that run their businesses allowing them to increase the pace of innovation and achieve real business value," Dong said.