The city of Duisburg in Germany will soon be introduced to an array of cloud-based digital services. Chinese telecommunications giant Huawei and ISP DU-IT plan to equip the city - formerly known for its expansive steel industry - with state-of-the-art ICT infrastructure.
The pair have introduced their 'Rhine Cloud' service at CeBIT in Hannover, which will be hosted by the municipal subsidiary of the Duisburger Utilities and Supply Company.
Smart Duisburg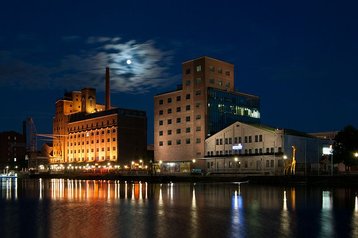 The roll-out will provide local businesses and public organizations with both Infrastructure-as-a-Service (IaaS) and Software-as-a-Service (SaaS) offerings; the latter will be provided by Munich-based indoor mapping company Navvis. The project will support applications such as e-government, retail, tourism, and facility management. 
The cloud service will be hosted in the DU-IT's own data center, which is said to be compliant with German data sovereignty laws and backed up in several geographically distant disaster recovery sites.
Huawei says the initiative, which was announced in January, will make the city "smarter" and "easier to live in," expressing its enthusiasm at helping its "business customers drive innovation and growth, bringing safety and efficiency to citizens, and making the city more attractive to businesses and investors."
Of course, it also testifies to the company's will to establish a physical presence in cities across the world. Huawei currently has a stake in 120 smart city initiatives in 40 countries across the globe, 26 of which are located in China. More often than not, the telecoms giant operates on a basis of partnerships, supplying the infrastructure while local providers are charged with its operation.
"Smart cities are nothing but pure-play IoT," noted Sanjay Sainani, Huawei's vice president for of IT and cloud for the Middle East region, who spoke at DCD's Zettastructure event in London in November 2016. This, he argued, means that having an IoT platform is the first step to supporting smart city services of any kind. 
Meanwhile, critics of the "smart city" concept argue that rather than a seamless, fully automated transformation of urban areas, these efforts will translate into slight transformations of current infrastructure according to existing socio-political and ideological trends.