Toronto-based Morrison Hershfield and Baltimore-based CCG Facilities Integration have merged their operations to create one of North America's largest mission critical facilities teams, with data center projects responsible a major part of the combined business.
"We now have the size and scale necessary to deliver a full-suite of services to the industry's largest and most demanding clients," said Bruce Edwards, president of CCG.
The merger closed on December 31, 2018.
A good start to the year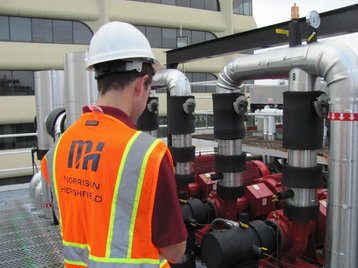 CCG was founded in 1992 as a privately-held corporation specializing in engineering, facility planning, technology management, commissioning and management consulting services, with focus on mission critical infrastructure.
Its much larger competitor, Morrison Hershfield, is an employee-owned engineering firm founded in 1946, operating across multiple industries including technology and telecommunications. It has 16 offices across North America, and more than 1,000 employees.
Both businesses are involved in data center design and construction worldwide, and late last year, Morrison Hershfield's Laura Rogers received DCD's Young Mission Critical Engineer of the Year award.
"We tell our clients that the only thing more reliable than us, will be your data center," said Anthony Karakatsanis, president and CEO of Morrison Hershfield.
"We pride ourselves on delivering anytime, anywhere and on building trust in our relationships. As we've increased our focus on the mission-critical market, we've seen that CCG has the same commitment and reputation. This merger is a perfect technical and cultural match for our employees and clients, and I am very proud to have CCG join our firm."
Under the terms of the deal, CCG will retain its entire staff, and continue all of its current projects.
Mergers with smaller businesses are the preferred method of expansion for Morrison Hershfield: over the years, the firm absorbed Rolf Jensen and Associates, Maunder Britnell, Maxim Engineering, Ruys & Company, Suncord Engineering, Jeffers Engineering Associates and Structural Design, among others.