According to analysis by real estate services giant CBRE, Frankfurt has reached 30MW of colocation take-up in 2016 as of Q3, more than any European market has managed in a full-year.
London, the reigning champion, was close behind at 28.7MW after adding 7MW in Q3, but may lose its title as the top market in Europe for 2016.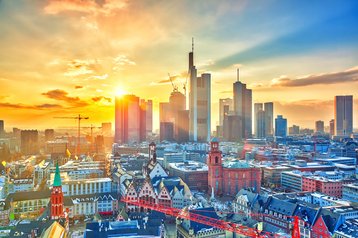 Germany's fifth-largest city
Across the continent, CBRE predicts that there will be continued strong leasing activity by cloud service providers in Q4, bringing the total annual take-up to over 100MW figure - a 30 percent increase on any other year.
"There has never been so much wide-spread interest in the data center industry," Andrew Jay, exec director of CBRE's Data Center Solutions team, said. 
"The amount of colocation space acquired by the cloud service providers in Frankfurt has been staggering and is indicative of how the cloud and Internet of Things have become so integral to everything we do in society."
Frankfurt's rise has in part come from German data residency laws that have led to more and more companies doing business in the largest national economy in Europe to seek facilities in Germany.
Only today, Rackspace announced plans to open a data center in Frankfurt, again citing data residency as one of the factors behind the decision.
Earlier this week, Alibaba said it was coming to Frankfurt, while Keppel T&T bought a stake in a Frankfurt facility just last week.
October saw Colt announce a Frankfurt facility, while September saw Google reveal plans to come to the city, along with Interxion, and Microsoft in partnership with T-Systems International.