This week, at Computex Taipei, announcements and demos from Cavium and its partners demonstrate the breadth of server applications and designs for the 64-bit ThunderX ARMv8 CPU. With no fewer than four partner announcements so far, the ThunderX will be doing yeoman duty in everything from general purpose servers to high-density compute solutions.
Taipei server and storage vendor Wiwynn will be incorporating the ThunderX CPU across the board in its product roadmap, using the CPU's efficient design for systems specific to data center, cloud, and cloud storage systems. Wiwynn is implementing specific versions of the 64-bit CPU to meet the needs of each of these product design categories.
Well-known hardware vendor Asus will be delivering dual-socket ARM servers and server boards based on the Cavium ThunderX in Q4 2015, aimed at the ultra-efficient data center as well as the high-performance computing market, using the full range of ThunderX capability. So far, specific details of Asus' plans, beyond the use of a two-socket design, have not been announced.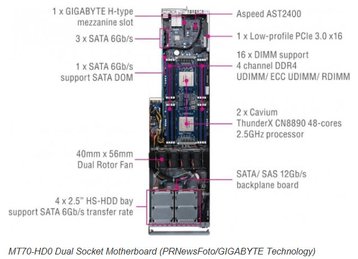 Cavium also announced it will collaborate with design and manufacturing service Pegatron on series of workload optimized high performance server platforms. These designs will then be made available to Pegatron's customers who want to implement ThunderX in their own product lines. According to Jay Huang, Pegatron general manager. "We have designed our new ThunderX-based platforms to deliver competitive advantage for HPC, big data and other hyperscale workloads. We're committed to providing competitive advantage to our customers through leading-edge technology, and delivery of these new ARM-based servers in Q2 2015 is a key part of our strategy." DSMs such as Pegatron will make it easier for smaller hardware vendors to deliver customized ARM solutions to their customers.
In terms of actual products, Gigabyte announced a high-density 384 Core 2U server powered by Cavium ThunderX ARMv8 processors. Based on their MT70-HD0 server board – the first cache-coherent, dual socket ARM board to be released to market, the H270-T70 2U server uses the half-width format used in their existing 2U servers allowing 4 nodes per rackmount case. Each board can support up to 96 cores (two 48 core CPUs), a maximum of 1 TB of DDR4 memory, two 40 Gb/s SoC controlled LAN ports and full IPMI remote management capabilities. The servers will be shipping in quantity in Q3 2015