Carrier has launched a data center chiller in the US, which uses a more sustainable refrigerant.
The AquaEdge 19DV centrifugal chiller uses a low global warming potential coolant fluid called R1233zd(E). It also has higher efficiency than previous models because of improvements in compression technology and the integration of intelligent variable-speed technology.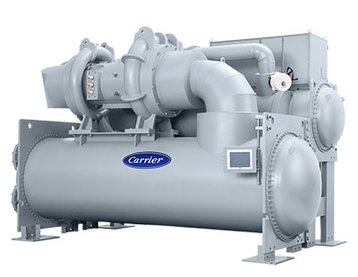 Lower greenhouse impact
The product was first announced at the China Refrigeration Expo in Beijing in 2016, and launched in China in December. This month, it was launched in the US, at AHR Expo (Airconditioning Heating and Refrigeration Expo) in Chicago. 
the new refrigerant R1233zd(E) is an alternative to the widely used R123, which specialist site Cooling Post says was first introduced by Carrier's US rival Trane back in 2014, with the Series E CenTraVac water-cooled centrifugal chiller.
The product has a low-speed direct drive back-to-back design which balances internal forces. Energy-saving ceramic bearings are lubricated by the refrigerant already in the chiller. The system is controlled by a touch screen, which gives performance reports and can be controlled remotely. 
Carrier was founded by Willis Carrier, who invented modern air conditioning in 1902, and established the Rational Psychrometric Formulae which relate relative humidity, absolute humidity anddew point temperature, enabling the scientific approach to air conditioning. Carrier Corporation is now a part of UTC Climate Controls and Security, which is a unit of United Technologies Corp.