Leaders in the Caribbean have signed a commitment to digital transformation in the region, including a new government cloud and regional data center.
On May 16, nine Caribbean ministers and two senior advisors signed the Port of Spain Commitment on Digital Integration, an agreement to pursue sustainable digital transformation in the Caribbean.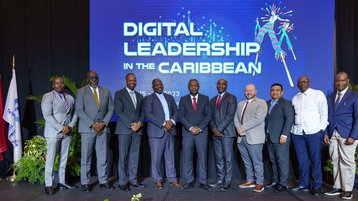 The commitment will see the creation of a regional government cloud using existing and planned data centers in the Caribbean, and establish a new regional data center.
The commitment was signed during an Executive Leadership Session hosted by the Ministry of Digital Transformation (MDT) on behalf of the Government of the Republic of Trinidad and Tobago and in partnership with the American Development Bank and Caribbean Telecommunications Union (CTU).
The Caribbean leaders have agreed on three key areas for digital transformation: infrastructural ecosystem, cybersecurity, and digital identity and interoperability. The commitment applies to 11 countries, including Trinidad and Tobago, Antigua and Barbuda, Barbados, Belize, Curacao, Dominica, Grenada, Haiti, Suriname, St Kitts and Nevis, and St Vincent and the Grenadines.
The group also agreed to develop a regional computer security incident response team, improve cybersecurity training, create a Critical Infrastructure Protection framework, pursue cross-border recognition of digital IDs, create a shared repository of digital solutions, and develop a region-wide form of national identification.
Minister of Digital Transformation and current President of the CTU General Conference of Ministers, Hassel Bacchus, said: "Waiting is not an action; after this, there will be no waiting, we will be doing."
The Caribbean is connected by several subsea cables including the Southern Caribbean Fiber, Caribbean Regional Communications Infrastructure Program, Eastern Caribbean Fiber System, X Link, American Movil subsea cable, and Arvos among others.
In March 2022, St Kitts' prime minister announced plans to build a 'state of the art' data center on the island.
According to a research report by Report Linker, the data center market in the Caribbean is predicted to grow at a compound annual growth rate of 11.37 percent between 2022 and 2027.