Chinese Blockchain specialist Canaan Creative is set to open a 10MW data center in the north of Sweden.
The facility will become part of the Node Pole – an infrastructure project that aims to replace defunct heavy industries with data centers.
Canaan will use the facility to mine bitcoins using proprietary equipment developed by the company, on the premises previously occupied by another cryptocurrency venture, K'n'C Miner.
At the end of 2016, the Node Pole project was acquired by Swedish power companies Vattenfall and Skellefteå Kraft.
Building Avalon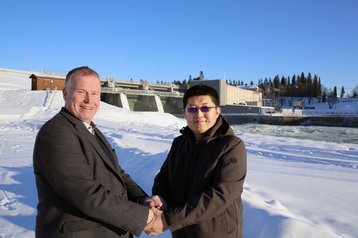 Beijing-based Canaan is known for its bitcoin mining chip brand 'Avalon'. In 2016, the company was acquired by electronics manufacturer Shandong Luyitong in a cash and stock deal reportedly worth ¥3.06 billion ($466m).
Now, Canaan has become the first Chinese company in the bitcoin field to open a data center in Europe. It will be operating a facility at the Node Pole – a data center project originally made famous by Facebook, after it built a massive data center campus in Lulea, its first outside the US.
Canaan is expected to start mining operations later this month, and will take advantage of the recently lowered electricity prices. In November, the Swedish government voted to cut taxes on electricity for data centers by 97 percent, and Sweden now enjoys the cheapest electricity in Europe.
The Node Pole used to host another cryptocurrency venture, K'n'C Miner, but the company fell on hard times. It declared bankruptcy in May 2016, and was sold to a Swedish firm called GoGreenLight shortly thereafter. GoGreenLight continues its mining operations .
"We have worked intensively over several years to become a leading cluster for blockchain and HPC (High Performance Computing) technology. Canaan Creative is a cutting-edge company with long-term plans and unique expertise in the rapidly growing blockchain market. The fact that Canaan Creative selected us goes to show that we are on the right track," said Erik Svensson, CEO of Boden Business Agency.