BT has confirmed it has stopped selling new voice copper telephone lines on its Openreach national network after more than a century.
The announcement falls in line with Openreach's plan to retire the copper-based public switched telephone network (PSTN) by the end of 2025.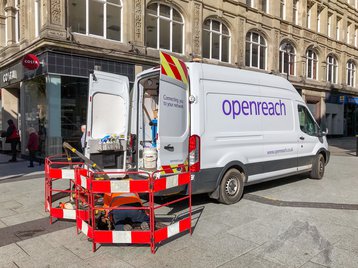 "As part of this whole process, we're now taking the significant step of ending the sale of new analog services across the UK," said Openreach.
"That means from today, when customers sign up for a new contract - or when they switch, upgrade or re-grade their service via their provider - they'll be moved onto a new digital line rather than an analog one."
The move is not surprising given that BT outlined its intentions to phase out the legacy copper network back in 2017.
Openreach is instead aiming to roll out its ultrafast full fiber broadband to 25 million homes and businesses by December 2026, passing 10 million homes earlier this year.
The UK's communications network has been propped up by copper cables since the early 1900s, however, the need to support gigabit connectivity has meant that this aging infrastructure needs to be replaced.
The move to phase out copper networks is one that many broadband providers and telcos have adopted in recent years, with fiber providing a much quicker alternative.
In August of last year, regional fiber provider WightFibre, which operates on the Isle of Wight off Britain's South coast, switched off its old copper network, claiming to be the UK's first provider to do so.