BT has secured a £350 million ($436m) contract in Scotland to become the sole provider to deliver public sector connectivity across Scotland.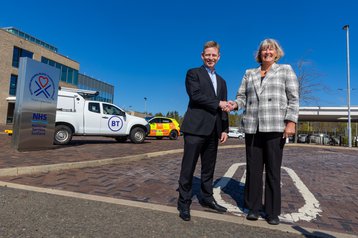 Running over the next six years, the Scottish Wide Area Network (SWAN) contract, which has been awarded by NHS National Services Scotland (NSS) on behalf of the Scottish government, will speed up the digital transformation of the country's public sector, including to some of the most rural areas across the country.
BT said that the contract will enable 'better communication, data sharing, and collaboration' across more than 6,000 sites, including 94 public sector organizations.
The contract will see improved fiber broadband connectivity for schools, hospitals, GP surgeries, pharmacies, every NHS Board, and local government offices.
In total, 22 NHS Scotland boards, 278 general and community hospitals, and more than 900 GP practices are set to be connected to the network, with BT claiming that its investment in SWAN will help to reduce costs and increase the efficiency of the connected organizations.
"BT is committed to playing its part in helping to shape and to deliver transformational public sector services for people across Scotland now and into the future," said Alan Lees, director for business, BT Scotland. "We strongly believe in the difference that highly resilient and secure connectivity can make to the delivery of public services in Scotland and with our expertise and investment we can accelerate the digital transformation of services to the public.
"This contract will see us deliver a cost-effective and innovative communications framework, which will benefit public sector employees, citizens, and services in ways that we have not seen before. We have access to the largest next-generation networks," he added.
According to the telco, its 4G coverage across Scotland's landmass currently sits at 75 percent, which it notes is eight percent more than its nearest rival, while it was also the first network operator to launch 5G in the country.
"This is a significant milestone for NSS, and for the many partner organizations across the public sector who depend upon SWAN, including NHS Scotland," added Mary Morgan, chief executive of NHS National Services Scotland (NSS).
"Swift and secure connectivity is at the heart of modern future-facing public services. Robust digital infrastructure is key to successful innovation and service improvements that will benefit citizens, families, and communities."