A consortium fronted by BT has received government backing, with funding via research agency UK Research and Innovation (UKRI).
It will see the consortium aim to research and develop drones, and AI applications for ports and highways.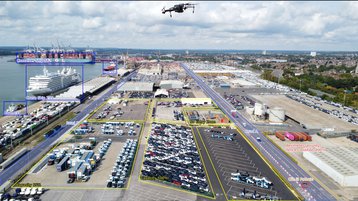 Titled InDepth ('Intelligent Drones for Port and Highways Technology'), the project is part of the 'Future Flight Challenge Phase 3' program, which seeks to drive the UK's drone economy.
BT is working with Associated British Ports (ABP), Kier Highways, Connected Places Catapult, RoboK, and Herotech8 to test the use of drones.
These tests will focus on what the company calls automatic 'beyond visual line of sight' (BVLOS) missions to monitor and control critical national infrastructures such as highways and ports. BT says the project will look at the value in various use case areas for ports and highways.
It's not known exactly how much the project will receive in funding, but the UKRI's Future Flight Challenge Phase 3 program has put aside £73 million ($85.5m) to support 17 different projects, including the BT-led consortium.
"Working collaboratively, we can realize the true potential of drone technologies and develop the innovative new use cases that can add value to ports and highways and many other industries," said BT chief researcher John Davies.
"Together we are taking a leading role in demonstrating the positive impact drones can have on the economy – specifically helping businesses to become more efficient and supporting the path to net zero."
BT adds that the project is aiming to "create efficient, low-carbon, cost-effective solutions for infrastructure management with Unmanned Aerial Systems, which can help demonstrate opportunities for ports and highways to use 'drones as a service,' which includes AI and data analytics.