BT is reportedly on "high alert" over a potential takeover spearheaded by major shareholder Deutsche Telekom.
The Telegraph reports that the telco giant has "intensified work" with Goldman Sachs and Robey Warshaw in recent months as it looks to defend a takeover bid.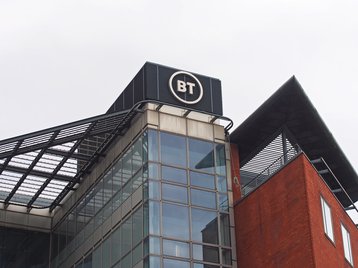 Deutsche Telekom currently owns a 12 percent stake in BT, and is rumored to be lining up an approach, as BT continues to grapple with its £15 billion ($19.4bn) investment into its fiber-optic broadband network.
Rising interest rates have been a challenge for BT as the telco aims to replace its copper telephone lines with fiber optics as well as roll out its 5G network amid a Huawei rip-and-replace program. Its debt pile (excluding leases) stands at £14bn ($18bn).
Deutsche Telekom has been a stakeholder in the telco since BT acquired EE back in 2016.
The Telegraph reports that senior officials at Deutsche Telekom have identified a closing window of opportunity to seize control as Britain's political landscape shifts, with Labour's Kier Starmer tipped to take power at the country's next election, expected to happen in the next 18 months.
This would likely see Starmer pressured to block such a takeover as BT is heavily unionized, states the Telegraph. BT and Openreach workers through the Communication Workers Union (CWU) won their pay dispute last year against the telco following months of industrial action.
Significantly, Deutsche Telekom isn't the biggest stakeholder in BT. That accolade belongs to billionaire Patrick Drahi, founder of French telco Altice, who upped his stake in the UK firm to 24.5 percent in March.
Drahi stated at the time he was not interested in a full takeover of the British telecoms group or a place on the company's board.
He increased his stake in BT from 18 percent, after upping it last summer from the 12.1 percent he initially acquired in the company in 2021 for £2 billion ($2.48bn). This was heavily scrutinized at the time by the UK government, with then business secretary Kwasi Kwarteng calling it in for a full national security assessment in May 2022.
Neither BT nor Deutsche Telekom commented on the report, noted The Telegraph, which added that the two top shareholders (Deutsche Telekom and Drahi) are said to have strongly influenced Jansen's announcement of up to 55,000 job cuts.
The takeover reports surfaced the same week BT announced that its chief executive Philip Jansen will step down within 12 months.
Deutsche Telekom's CEO Tim Höttges called the company's decision to buy a stake in BT the "biggest mistake" in an interview just four months ago with The Financial Times.
"I want my money back," said Höttges in February. "It was too early, and I didn't understand all of the obstacles around BT."
The deal in 2015 saw Höttges' Deutsche Telekom take a £5.6 billion ($6.74bn) stake in BT. However, this stake has since lost around £4bn ($4.8bn) of its value.
More in The Investment & Markets Channel