The British government has announced a joint project with IBM, hoping to boost research into analytics and cognitive computing.
Under the terms of the agreement, IBM will supply technology like the Watson artificial intelligence platform and OpenPower servers to the famed Hartree Centre in Daresbury, run by the UK Science and Technology Facilities Council (STFC). In addition, at least 24 IBM Research engineers will be stationed there.
The deal could be worth around £313 million ($480m) over the next five years – consisting of £113 million invested by the government into the Hartree Centre, and up to £200 million contributed by IBM in technology and onsite expertise.
The partnership was launched on Thursday by Jo Johnson, Universities and Science Minister. "We live in an information economy – from the smart devices we use every day to the super-computers that helped find the Higgs Boson, the power of advanced computing means we now have access to vast amounts of data," he said.
"This partnership with IBM, which builds on our £113 million investment to expand the Hartree Centre, will help businesses make the best use of Big Data to develop better products and services that will boost productivity, drive growth and create jobs."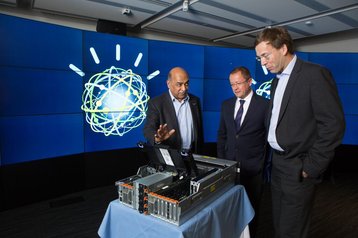 For the future

Big Data was identified by the British government as one of the 'Eight Great Technologies' that will be essential to the future of the country, alongside regenerative medicine, synthetic biology and robotics.
Politicians hope funding more research will result in new and improved products, services and manufacturing processes, helping deliver competitive advantage and economic growth on a national scale.
The partnership with IBM will provide Hartree Centre staff with access to cutting edge products like the Watson platform and OpenPOWER servers for High Performance Computing. The center will engage in collaborative projects with third parties, and draw on the talent pool across UK universities. Any technology developed at the center will be jointly commercialized by IBM and STFC.
Watson is especially interesting in the context of analytics. Originally developed to defeat a human team on the quiz show Jeopardy!, this computer system can mine terabytes of data to answer questions posed in natural language –something that could enable non-technical people to engage with Big Data.
"We're at the dawn of a new era of cognitive computing, during which advanced data-centric computing models and open innovation approaches will allow technology to greatly augment decision-making capabilities for business and government," said David Stokes, CEO for IBM in the UK and Ireland.